9 September, 2014 (Hamburg, Germany) – Caterpillar Marine is pleased to announce the introduction of optional part load kits for the MaK M 32 E platform. Developed specifically for offshore vessels, the M 32 E part load kits are available for both constant speed and variable speed operations. Both kits combine lowest possible fuel consumption in part load range with highest possible power output at full load.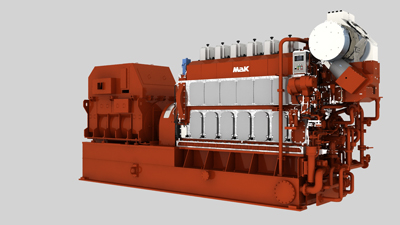 Caterpillar Marine Part Load Kits for the MaK M 32 E engine platform
Offshore vessel applications, specifically Offshore Supply Vessels (OSV) and Anchor Handling Tug Supply (AHTS) vessels, typically encounter a significant period during their lifetime where they have limited power demand from the engines. Operating in stand-by or dynamic positioning mode often requires the use of multiple engines in combination with low power consumption, resulting in low load operation of two or three engines at the same time. The part load kits enables all vessels operating M 32 E engines primarily in the part load range improved fuel efficiency, load acceptance and reduced smoke.
"It was a big challenge for us to implement a part load optimization into the increased power rating concept without sacrificing the reliability and durability MaK marine engine platforms are known for," said Carsten Seeburg, MaK product definition manager. "Additionally, the M 32 E part load kits reduce operating costs and help to improve vessel owner bottom lines."
The constant speed part load kit for M 32 E offers fuel savings up to 10 g/kWh with a 3×33% load step capability. The kit includes the proven Flexible Camshaft Technology and an intelligent control software integrated into the new Modular Alarm Control and Safety (MACS) System.
The variable speed part load kit for M 32 E is based on the constant speed part load kit with the same improvements but with increased fuel savings up to 24 g/kWh. The variable speed kit is able to achieve reduced fuel consumption as a result of the reduced engine speed at lower loads. Key components in the variable speed part load kit include a modified turbocharger, a cylinder bypass valve and waste gate.
"For our offshore customers operating their ships in the part-load range, the need to be able to provide the lowest fuel consumption possible is paramount," Seeburg noted. "In these applications, the maximum power output is typically needed less than 8% of their annual operating hours. However, if the vessel needs to go full throttle, the operator can rest assured that the M 32 E engine optimized with a part load kit is more than capable of providing the thrust needed."
The M 32 E offered with the new part load kit fits perfectly in the comprehensive Cat® Marine product line between the full load optimized M 32 C and the fuel flexible M 34 DF. Cat marine power and propulsion solutions are backed by the worldwide Cat dealer network with trained technicians to ensure service support is never out of reach. Visit us at SMM Hamburg in Hall A4 at Booth #204. For more information on Caterpillar Marine, visit www.marine.cat.com. For information on Cat Propulsion products, visit www.catpropulsion.com. Follow us on Facebook: www.facebook.com/caterpillarmarine and Twitter @catmarineglobal using #catatsmm.
About Caterpillar Marine
Caterpillar Marine, with headquarters in Hamburg, Germany, groups all the marketing and service activities for Cat and MaK™ marine diesel, dual fuel and gas power and propulsion systems within Caterpillar Inc. The organisation provides premier power solutions in the medium- and high-speed segments with outputs from 93 to 16,800 kW in main propulsion and 10 to 16,100 kWe in marine generator sets as well as a comprehensive portfolio of propulsion solutions. The sales and service network includes more than 2,100 dealer locations world-wide dedicated to support customers in ocean-going, commercial marine and pleasure craft wherever they are.
More information is available at:MARINE.CAT.COM/pr
About Caterpillar
For nearly 90 years, Caterpillar Inc. has been making sustainable progress possible and driving positive change on every continent. Customers turn to Caterpillar to help them develop infrastructure, energy and natural resource assets. With 2013 sales and revenues of $55.656 billion, Caterpillar is the world's leading manufacturer of construction and mining equipment, diesel and natural gas engines, industrial gas turbines and diesel-electric locomotives. The company principally operates through its three product segments – Resource Industries, Construction Industries and Energy & Transportation – and also provides financing and related services through its Financial Products segment. For more information, visit caterpillar.com. To connect with us on social media, visit caterpillar.com/social-media.
CAT, CATERPILLAR, their respective logos, MaK, "Caterpillar Yellow", the "Power Edge" trade dress as well as corporate and product identity used herein, are trademarks of Caterpillar and may not be used without permission.