16 August 2016 – Caterpillar Marine expands presence at former Caterpillar Remanufacturing site to establish new dedicated Marine Center in Singapore
Caterpillar Marine is establishing a new Marine Center in Singapore in the facility previously occupied by Caterpillar Remanufacturing, at 5 Tukang Innovation Grove. The new center will bring together in one location almost 200 people employed by Caterpillar Marine in Singapore.
Facilities will feature new manufacturing capability for Caterpillar Marine's Propulsion business to build the company's range of MTA azimuth thrusters and MTT tunnel thrusters. The new Marine Center will have the capability to produce the full line of thrusters including additional capacity to produce the new MTA 9 with rated power exceeding 3.5 MW, as well as Caterpillar's expanded series of thrusters dedicated to the tug market. The center will also house members of Caterpillar Marine's Propulsion Systems Solutions team, who work on the development of advanced and innovative marine propulsion system concept designs.
This location already functions as Caterpillar Marine's sales and service hub covering MaK™, Caterpillar Marine and EMD branded medium speed diesel engines for the Marine, Power Generation and Oil and Gas markets throughout the Asia Pacific and Oceania region. As part of this latest commitment to Singapore's maritime industry, the new center will allow Caterpillar Marine Asia Pacific Pte Ltd dealership to expand its workshop space and capabilities, and consolidate its extensive offsite spare parts inventory to improve the efficiency of its parts operations.
In addition, the Marine Center will enable an expansion in Cat Medium speed engine training services for customers in the region, and establish a new Caterpillar Propulsion Training center for customers and dealers on Caterpillar Propulsion thrusters and controls.
A number of engineering and production employees formerly working at the Caterpillar Remanufacturing operation have been re-engaged to work at the new Caterpillar Marine Center, which is expected be fully operational by the 4th Quarter of 2016.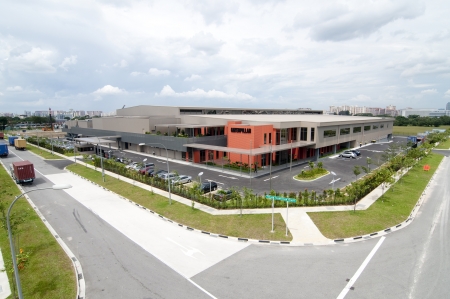 The new Caterpillar Marine Center Singapore
More information is available at: www.cat.com/marine
About
Caterpillar:
For 90 years, Caterpillar Inc. has been making sustainable progress possible and driving positive change on every continent. Customers turn to Caterpillar to help them develop infrastructure, energy and natural resource assets. With 2015 sales and revenues of $47.011 billion, Caterpillar is the world's leading manufacturer of construction and mining equipment, diesel and natural gas engines, industrial gas turbines and diesel-electric locomotives. The company principally operates through its three product segments – Construction Industries, Resource Industries and Energy & Transportation – and also provides financing and related services through its Financial Products segment. For more information, visit caterpillar.com. To connect with us on social media, visit caterpillar.com/social-media.
CAT, CATERPILLAR, their respective logos, "Caterpillar Yellow" and the "Power Edge" trade dress, as well as corporate and product identity used herein, are trademarks of Caterpillar and may not be used without permission.
©2016 Caterpillar
All Rights Reserved