11 September, 2014 – Caterpillar Marine will launch the Cat® C4.4 ACERT™ generator set for commercial vessels at the 2014 SMM Exhibition, held September 9 -12 in Hamburg, Germany. Designed to provide essential, non-essential or emergency power across a wide range of commercial platforms, the new C4.4 ACERT is a fully-electronic power solution delivering improved transient response and better load acceptance.
The C4.4 ACERT offers rated power of 65 – 99 ekW @ 50 Hz and 60 – 118 ekW @ 60 Hz. The new platform will be available to order from the global Cat dealer network in September 2014.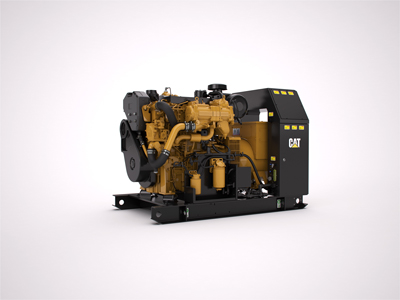 New Fully-Electronic Cat® C4.4 ACERT™ Generator Set
"The new C4.4 ACERT shares the same design strategy with the C7.1 ACERT and was engineered to incorporate an eighteen percent increase in power density," Seth Charna, Caterpillar Marine product definition engineer noted. "We will continue to sell and support the mechanical C4.4 platform but are pleased to offer customers with specific emissions requirements an electronic configuration of this popular marine power provider."
The C4.4 ACERT is United States EPA Tier 3 and CCNR Stage 2 certified. Designed for fail-safe operation, the ease of use of the C4.4 ACERT is one of its most praised attributes. Other significant benefits include long service intervals and a simple installation process. The C4.4 ACERT is a complete factory package generator set and has accumulated thousands of hours in rigorous validation testing, proving the durability of its legendary Cat yellow performance iron. The C4.4 ACERT will be offered as MCS approved in late 2014. Manufactured in the United Kingdom, the new C4.4 ACERT is equipped with a high pressure common rail system and an optional EMCP 4.2 electronic control panel. The customizable C4.4 ACERT can be tailored to meet customer-specific needs with a wide range of factory-fitted and globally-supported options and accessories.
"As a complete Cat packaged solution the C4.4 ACERT generator set offers customers full electronic control, with industry leading power density and low cost of ownership," Matt Wilson, Caterpillar Marine sales & marketing manager said. "Customers will also note the significant smoke reduction and improved fuel consumption in the new model."
Cat® marine power and propulsion solutions are backed by the worldwide Cat® dealer network with trained technicians to ensure service support is never out of reach. Visit us at SMM Hamburg in Hall A4 at Booth #204. For more information on Caterpillar Marine, visit www.marine.cat.com. For information on Cat Propulsion products, visit www.catpropulsion.com. Follow us on Facebook: www.facebook.com/caterpillarmarine and Twitter @catmarineglobal.
About Caterpillar Marine
Caterpillar Marine, with headquarters in Hamburg, Germany, groups all the marketing and service activities for Cat and MaK™ marine diesel, dual fuel and gas power and propulsion systems within Caterpillar Inc. The organisation provides premier power solutions in the medium- and high-speed segments with outputs from 93 to 16,800 kW in main propulsion and 10 to 16,100 kWe in marine generator sets as well as a comprehensive portfolio of propulsion solutions. The sales and service network includes more than 2,100 dealer locations world-wide dedicated to support customers in ocean-going, commercial marine and pleasure craft wherever they are.
More information is available at: MARINE.CAT.COM/pr
About Caterpillar
For nearly 90 years, Caterpillar Inc. has been making sustainable progress possible and driving positive change on every continent. Customers turn to Caterpillar to help them develop infrastructure, energy and natural resource assets. With 2013 sales and revenues of $55.656 billion, Caterpillar is the world's leading manufacturer of construction and mining equipment, diesel and natural gas engines, industrial gas turbines and diesel-electric locomotives. The company principally operates through its three product segments – Resource Industries, Construction Industries and Energy & Transportation – and also provides financing and related services through its Financial Products segment. For more information, visit caterpillar.com. To connect with us on social media, visit caterpillar.com/social-media.
CAT, CATERPILLAR, their respective logos, MaK, "Caterpillar Yellow", the "Power Edge" trade dress as well as corporate and product identity used herein, are trademarks of Caterpillar and may not be used without permission.