2 June, 2015 – A completely fresh range of azimuth thrusters will be the standout feature of a newly integrated propulsion package from Caterpillar Propulsion targeting the tug market, developed to match the highest performance with the most competitive cost.
The 60 tonne bollard pull Cat® Propulsion Marine Thruster Azimuth (MTA) is the first model in what will become a new family of rotatable units optimized for tug operations, with an initial unit expected to be delivered into a commercial trial by the end of 2015.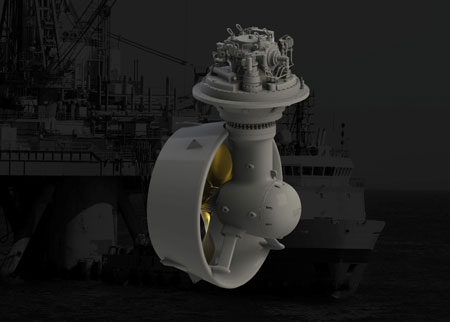 Cat Propulsion Marine Thruster Azimuth MTA
The new MTA range has been tailored to optimize performance when working as part of an integrated propulsion train and will be made available through the extensive Cat dealer network. The complete package for tugs will include engines, high speed shafting, controls and clutches. The MTA's consoles will display and control engine and thruster functionality
"This MTA is a key component in our concerted drive to bring the twin benefits of performance excellence and economy to the tug market," Jim Johnson Caterpillar Propulsion general manager said "The harbor tug sector is intensely competitive, but it is also a market that will benefit in terms of bollard pull and reliability from a consolidated control-engine-thruster package where component parts are optimized to work together."
"There is no question that customers will benefit from a single source supplier offering competitive pricing and an unrivalled network providing product support," said Johnson. "Tugs are the industry workhorses that are expected to deliver whatever the backstory; tug operators certainly appreciate having a local single point of contact for service support."
Caterpillar Propulsion has made simplified installation and easy access for maintenance priorities as part of the new thruster development, without compromising the conservative design principles on which it has built its reputation. The clutch and the mechanical PTO will be contained in a single unit, while the thruster and engine assembly can also be installed as a complete unit.
"With its 60 tonne bollard pull capability, our first MTA is aimed at the volume end of the tug market, reflecting the strong share achieved by Cat marine engines in this segment," says Mr. Johnson. "Ultimately, up to six different MTA sizes will be available to cover a wide range of tugs, all of which will be supported by the Cat dealer network worldwide."
About Caterpillar Marine
Caterpillar Marine, with headquarters in Hamburg, Germany, groups all the marketing and service activities for Cat® and MaK marine engines within Caterpillar Inc. The organisation provides premier power solutions in the medium- and high-speed segments with outputs from 93 to 16,800 kW in main propulsion and 10 to 16,100 kWe in marine generator sets. The sales and service network includes more than 2,100 dealer locations world-wide dedicated to support customers in ocean-going, commercial marine and pleasure craft wherever they are.
More information is available at: MARINE.CAT.COM/pr
About Caterpillar
For nearly 90 years, Caterpillar Inc. has been making sustainable progress possible and driving positive change on every continent. Customers turn to Caterpillar to help them develop infrastructure, energy and natural resource assets. With 2013 sales and revenues of $55.656 billion, Caterpillar is the world's leading manufacturer of construction and mining equipment, diesel and natural gas engines, industrial gas turbines and diesel-electric locomotives. The company principally operates through its three product segments – Resource Industries, Construction Industries and Energy & Transportation – and also provides financing and related services through its Financial Products segment. For more information, visit caterpillar.com. To connect with us on social media, visit caterpillar.com/social-media.