MaK™ M 25 C Propulsion Engines to be Installed on Eight Tugs
10 September, 2014 – Caterpillar Marine is pleased to announce MaK™ 8 M 25 C propulsion engines have been selected by Transnet National Ports Authority to power eight identical 70 ton bollard-pull tugs on order at a South African shipyard.
The tugs will be 31 meters in length with a beam of 12.5 meters and will each be powered by 2x MaK 8 M 25 C engines with a total output of approximately 5332 kW. The MaK engines will be delivered between 2015 and 2018.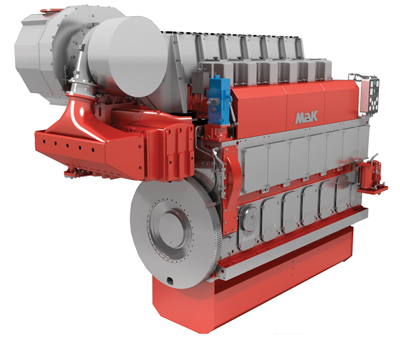 MaK™ 8 M 25 C propulsion engine
"Caterpillar is firmly committed to providing powerful, sustainable solutions to the global commercial tug operators and our Cat® and MaK engines are ideal for operators looking to enhance the efficiency of their operations" said David Surroca, Caterpillar Marine regional sales manager. "With outstanding engine reliability and efficiency, paired with a serviceable, maintenance-friendly design, the MaK engines will help the tug operators in reducing the operating cost and achieving highest uptime without sacrificing performance."
MaK engines offer customers a wide range of technical innovations, including excellent load response capabilities, better fuel consumption as well as long intervals between overhauls. The reduced number of components on the engine and the simplicity of the design enable easier overhauls. A proven performer in the commercial marine industry, MaK engines are the chosen power solutions for vessel owners in need of rugged, reliable power.
"With our excellent service organization we are looking forward to provide this customer all our service solutions to ensure the highest uptime," added Wynand Van Zyl, Marine Manager at Barloworld Power, the Cat dealer for South Africa.
Cat marine power and propulsion solutions are backed by the worldwide Cat dealer network with trained technicians to ensure service support is never out of reach. Visit us at SMM Hamburg in Hall A4 at Booth #204. For more information on Caterpillar Marine, visit www.marine.cat.com. For information on Cat Propulsion products, visit www.catpropulsion.com. Follow us on Facebook: www.facebook.com/caterpillarmarine and Twitter @catmarineglobal.
About Caterpillar Marine
Caterpillar Marine, with headquarters in Hamburg, Germany, groups all the marketing and service activities for Cat and MaK™ marine diesel, dual fuel and gas power and propulsion systems within Caterpillar Inc. The organisation provides premier power solutions in the medium- and high-speed segments with outputs from 93 to 16,800 kW in main propulsion and 10 to 16,100 kWe in marine generator sets as well as a comprehensive portfolio of propulsion solutions. The sales and service network includes more than 2,100 dealer locations world-wide dedicated to support customers in ocean-going, commercial marine and pleasure craft wherever they are.
More information is available at: MARINE.CAT.COM/pr
About Caterpillar
For nearly 90 years, Caterpillar Inc. has been making sustainable progress possible and driving positive change on every continent. Customers turn to Caterpillar to help them develop infrastructure, energy and natural resource assets. With 2013 sales and revenues of $55.656 billion, Caterpillar is the world's leading manufacturer of construction and mining equipment, diesel and natural gas engines, industrial gas turbines and diesel-electric locomotives. The company principally operates through its three product segments – Resource Industries, Construction Industries and Energy & Transportation – and also provides financing and related services through its Financial Products segment. For more information, visit caterpillar.com. To connect with us on social media, visit caterpillar.com/social-media.
CAT, CATERPILLAR, their respective logos, MaK, "Caterpillar Yellow", the "Power Edge" trade dress as well as corporate and product identity used herein, are trademarks of Caterpillar and may not be used without permission.