2 December, 2014 (Hamburg, Germany) – Caterpillar Marine is pleased to announce MaK™ diesel electric propulsion (DEP) solutions have been selected to power four Maersk Supply Services (MSS) newbuilds to be constructed by COSCO (Dalian) Shipyards.
Each vessel will be equipped with 4x MaK M 32 E generator sets with a power output of 4,400 kW each and 2x MaK 8 M 20 C at 1440 kW each.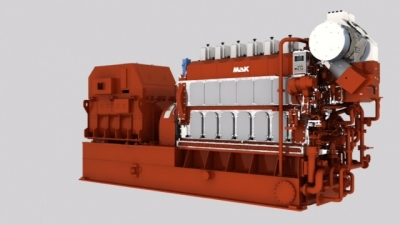 Part-Load Optimized M 32 E Engines
The new M 32 E engine solutions boast an increased power rating of 550 kW per cylinder @ 720 and 750 rpm, with total output ranging from 3,300 kW for the six cylinder configuration to 4,950 kW for the nine cylinder configuration. Additionally, the M 32 E generator sets feature the recently-introduced constant speed part load kit for the M 32 E, providing fuel savings up to 10 g/kWh with a 3×33% load step capability.
"We're pleased the high performance, part-load optimized M 32 E power solutions have been selected for the Maersk subsea service vessels," Alexander Kohse, Caterpillar Marine offshore segment manager noted. "The vessels will benefit from the lowest possible fuel consumption while operating in part load range but still deliver the reliable MaK power in full throttle."
Designed to carry out subsea cable laying, installation and maintenance, the subsea service vessels will be rated for operations in water up to 3,000 meters. The MaK engines will be delivered to the shipyard with enhanced safety offerings, such as a high standard exhaust cladding design for surface temperature control. Offering both 720 and 750 rpm, the higher power output M 32 E is ideal for diesel electric propulsion and auxiliary power applications complementing the multi-engine concepts which are typical for the offshore market. Compared to previous solutions the new design allows to substantially reducing the footprint of the generator set.
Besides the higher engine power density, the length and weight of the package has been reduced by more than 15%, without compromising reliability, durability, vibrations and structural borne noise. A seamless integration of the control system into the vessel electronics is ensured by the new modular alarm and control system (MACS). With MACS, the M 32 E can as well be perfectly integrated with the proven Cat® high speed engines in mixed engine rooms by using common Cat Electronics components like the legendary Cat ADEM™ A4 engine control module.
Cat marine power and propulsion solutions are backed by the worldwide Cat dealer network with trained technicians to ensure service support is never out of reach. Visit us at the International Workboat Show, December 3rd – 5th in New Orleans, Louisiana, booth #2802. For more information on Caterpillar Marine, visitwww.marine.cat.com. For information on Cat Propulsion products, visit www.catpropulsion.com. Follow us on Facebook: www.facebook.com/caterpillarmarine and Twitter @catmarineglobal during the show using #CatWBS.