7 November, 2014 (Gothenburg, Sweden) – The Caterpillar Propulsion twin fin system has won the Technical Innovation prize at the Seatrade Maritime Awards Middle East, Indian Subcontinent and Africa, Dubai – one of the highlights of Dubai Maritime Week 2014.
Focusing on the first commercial installation of the Cat® Propulsion twin fin system, onboard the Polarcus DMCC vessel Polarcus Naila, Caterpillar convinced an independent judging panel that the solution lives up to fuel and emissions savings claims made for it, while als
improving performance and reliability.
The Cat® Propulsion twin fin system comprises a compact electric motor and gearbox connected via short drive shaft, rotating a pair of controllable pitch propellers whose performance is enhanced by two tailor-made fins. The hydro-dynamically-optimized fins protect and give inboard access to mechanical parts, while also saving cargo space and enhancing manoeuvrability.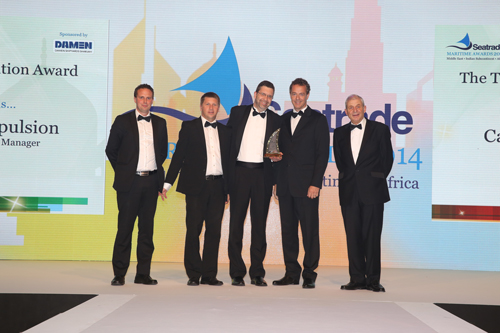 The Technical Innovation prize, Seatrade Awards Middle East, Indian Subcontinent and Africa goes to Caterpillar Propulsion (l-r): Mattias Hansson, Naval Architect/Sales Manager, Caterpillar Propulsion Sweden AB, Jörgen Karlsson, Managing Director, Caterpillar Propulsion Sweden AB, James Johnson, General Manager, Caterpillar Propulsion, Award presenter Marcel Van De Kreke, Head of Sales & Marketing, Damen Shipyards Sharjah, and Christopher Hayman, Chairman, Seatrade.
Jim Johnson, General Manager Caterpillar Propulsion, who accepted the Technical Innovation Award, said: "When Polarcus needed to replace an inefficient propulsion system on two survey vessels, we had every confidence in twin fin. What we could not know was that its benefits would be so quickly recognised across the industry. Receiving this Award in such distinguished company is a magnificent accolade.
"We were also delighted that the rigour of the independent judging panel gave us the opportunity to document how Polarcus Naila overcame its reliability problems, improved fuel efficiency by 30% and increased bollard pull thrust. In terms of customer satisfaction, the fact
that Polarcus quickly gave the go ahead to retrofit a second vessel speaks for itself."
Over 750 maritime and shipping personalities gathered at the Awards gala dinner and ceremony on October 27th at Atlantis, The Palm to celebrate excellence in all spheres of maritime activity across the region.
Chosen based on a set of fair and transparent criteria, the Technical Innovation Award honours advances in maritime technology, and especially those that are shown to have made an exceptional contribution to the maritime and shipping industry across the Middle East, Indian
Subcontinent and Africa.
About Caterpillar Marine
Caterpillar Marine, with headquarters in Hamburg, Germany, groups all the marketing and service activities for Cat® and MaK marine engines within Caterpillar Inc. The organisation provides premier power solutions in the medium- and high-speed segments with outputs from 93 to 16,800 kW in main propulsion and 10 to 16,100 kWe in marine generator sets. The sales and service network includes more than 2,100 dealer locations world-wide dedicated to support customers in ocean-going, commercial marine and pleasure craft wherever they are.
More information is available at: MARINE.CAT.COM/pr
About Caterpillar
For nearly 90 years, Caterpillar Inc. has been making sustainable progress possible and driving positive change on every continent. Customers turn to Caterpillar to help them develop infrastructure, energy and natural resource assets. With 2013 sales and revenues of $55.656 billion, Caterpillar is the world's leading manufacturer of construction and mining equipment, diesel and natural gas engines, industrial gas turbines and diesel-electric locomotives. The company principally operates through its three product segments – Resource Industries, Construction Industries and Energy & Transportation – and also provides financing and related services through its Financial Products segment. For more information, visit caterpillar.com. To connect with us on social media, visit caterpillar.com/social-media.