29 June, 2017 (Hangzhou, China) – Fleet of eleven containerships to be largest built in China, with ABB turbochargers.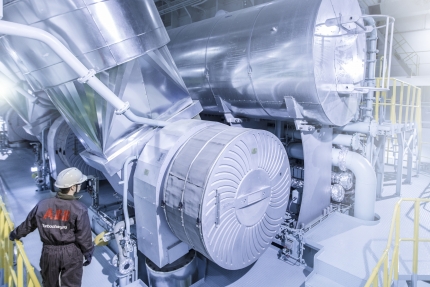 Main engine on a container ship
showing an A100-L type turbocharger
ABB turbochargers are powering the main engines and auxiliary engines of the largest containership ever built in China, a 20,000 TEU vessel named COSCO Shipping Taurus, launched in June 2017. This first ship was built by Shanghai Waigaoqiao Shipbuilding Co., Ltd (SWS) for delivery to COSCO Shipping Lines Co. Ltd, the world's fourth largest container shipping company. A further ten vessels also for COSCO Shipping Lines will be applied with the same ABB turbocharger configuration. They will add to the company's fleet of 311 containerships with a total capacity of 1.64 million TEU.
Each of the main engines will be equipped with three A180-L units, a two-stroke turbocharger, designed for large, marine diesel engines. To meet the need for optimizing fuel costs across fleets in the container shipping market, these turbochargers increase efficiency and operational flexibility, as well as enabling operators to comply with IMO Tier II emissions regulations with lowest fuel consumptions. Onboard this new ship, and its sister vessels, the four auxiliary engines will each be fitted with a four-stroke TPL67-C turbocharger. To-date, these have been the most in-demand of all ABB turbochargers, with the well-proven reliability that is crucial for the role of auxiliary engines.
Oliver Riemenschneider, Managing Director, ABB Turbocharging said, "We very much appreciate the strength and duration of our relationship and cooperation with COSCO Shipping Lines Co. Ltd over the years. ABB turbochargers have for a long-time been operated onboard its fleets, also the maintenance of more than 300 of these units is managed under ABB service agreements. We look forward to the continuation of this relationship as we deliver our products to power the engines of these new, high capacity ships."
Following the unveiling of the 'Made in China' strategy by the China State Council in 2015, the Ministry of Industry & Information Technology (MIIT) last year published 'The Action Plan for Improving the Marine Equipment Industry's Capability (2016-2020)'. This outlined further the importance and the key tasks for developing China into a shipping and ship building powerhouse. The construction of these eleven new box ships represents continuing progress towards this significant goal.
Allan QingZhou Wang, Head of ABB Turbocharging China added, "This addition in tonnage to the world containership market underlines the high potential to achieve this goal of building China into a great power of shipping and shipbuilding in line with the MIIT ambition. At the same time ABB is recognizing and responding to market demand across Asia, by strengthening our foothold in China."
COSCO Shipping Taurus is 400 meters long, with a width of 58.6 meters, and of the total 20,000 TEU it is equipped for 1,000 TEU of refrigerated capacity. The ship will operate routes from Asia to Europe.
About
ABB Turbocharging
ABB Turbocharging (www.abb.com/turbocharging) is at the helm of the global industry in the manufacture and maintenance of turbochargers for 500 kW to 80+ MW diesel and gas engines. Our innovative leading-edge technology enables our customers to increase their performance; producing lower emissions, and improving fuel consumption even in the toughest environments. Approximately 200,000 ABB turbochargers are in operation across the globe on ships, power stations, gen-sets, diesel locomotives and large, off-highway vehicles. We have over 100 Service Stations in more than 50 countries globally and a wide service portfolio that guarantees Original Parts and Original Service anytime, anywhere.
About
ABB Group
ABB (ABBN: SIX Swiss Ex) is a pioneering technology leader in electrification products, robotics and motion, industrial automation and power grids, serving customers in utilities, industry and transport & infrastructure globally. Continuing more than a 125-year history of innovation, ABB today is writing the future of industrial digitalization and driving the Energy
For more information
please contact:
Media Relations
Alexandra Christie
Mobile: +41 (0) 798 764 875
Phone: +41 58 58 59288
Email: alexandra.christie@ch.abb.com