12 September 2018 – Cobham SATCOM equipment has been specified for two high-profile Chinese polar research vessels, one of which is heading back to the Arctic for a ninth voyage of discovery with around 100 scientists on board, this time to investigate radioactivity, microplastics and acidification in the marine environment.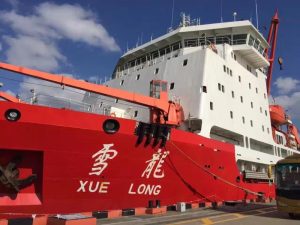 Following an order from China Transport Telecommunication Information (CTTIC), the ships, Xue Long and its soon-to-be-delivered sibling Xue Long 2, will each be fitted with SAILOR 100 GX terminals to provide high-performance connectivity through Inmarsat's Global Xpress network.
The 167m long Xue Long, literally 'Snow Dragon', is currently China's only operational civilian icebreaker and is owned by the Shanghai-based Polar Research Institute of China (PRIC). Its slightly smaller successor is a purpose-built ship designed by Finland's Aker Arctic, due delivery from Jiangnan Shipyard in 2019. Accommodation is provided for up to 90 scientists and crew.
Cobham SATCOM General Manager, China, Cheng-Yu Tang said: "The scale of these floating laboratories is more akin to small expedition cruise ships than commercial vessels. On Xue Long's ninth voyage, for example, Chinese scientists will be joined by groups of French and American researchers.
Fulfilling day-to-day connectivity and welfare needs alone puts significant demands on the ship-to-shore communications infrastructure. In addition, the cooperative approach taken to scientific research in the 21st century includes scientists working in lock-step with colleagues ashore, sharing data in volumes that recommend high-performance satellite communications."
"The fact SAILOR solutions were specified for these high-profile vessels is a testament to their resilience and the performance standards to which antennas are designed and built," added Cheng-Yu Tang. "As a matter of fact, both vessels will also be carrying portable Cobham SATCOM Explorer 5075 GX terminals that will be deployed at China's base stations in Antarctica."
These ships are also expected to play a supporting role in China's Belt and Road Initiative, the US$8 trillion, state-backed programme to develop logistics infrastructure across much of Eurasia and create a Polar Silk Road connecting Europe and Asia by Arctic shipping routes. Inmarsat recently signed a Memorandum of Understanding (MOU) with China Transport Telecommunication Information Group Company Limited (CTTIC) to establish a partnership to deliver Global Xpress mobile satellite broadband throughout China and across the Belt and Road region.
Designed to function in ambient temperatures as low as -25°C, SAILOR VSAT antennas have been developed using Cobham's highly scientific approach to product refinement, complemented by rigorous live testing. The process ensures consistent Internet speeds and superior availability for ships at sea, even in the extreme environments faced in the Arctic and Antarctic.
About Cobham SATCOM
Providing dependable communications and internet access anywhere under the most demanding conditions.
Our satellite and radio communication terminals perform in the most challenging and remote environments on land, at sea and in the air.
We design and manufacture these high performance products under the AVIATOR, EXPLORER, SAILOR and Sea Tel brands providing customers with outstanding performance, value and support through our global sales and service network.
About Cobham 
The most important thing we build is trust.
Cobham offers an innovative range of technologies and services to solve challenging problems in commercial, defence and security markets, from deep space to the depths of the ocean.
We employ around 10,000 people primarily in the USA, UK, Europe and Australia, and have customers and partners in over 100 countries, with market leading positions in: wireless, audio, video and data communications, including satellite communications; defence electronics; air-to-air refuelling; aviation services; life support and mission equipment.
The challenging and rewarding roles we offer, across a wide range of disciplines, are what make Cobham a true global technology and services leader. To view our current roles, visit www.cobham.com/careers.
For more information please contact:
Cobham SATCOM
Henrietta Jessen
Head of Product Marketing
T: +45 3955 8924
Email: henrietta.jessen@cobham.com
www.cobham.com/satcom
Twitter.com/cobham_plc