24 May 2023 – Campbell Johnston Clark (CJC) has announced that Richard Murray is re-joining its London-based team as a Managing Associate.  The announcement coincides with the appointment of nine CJC senior associates to the newly created company role of managing associate.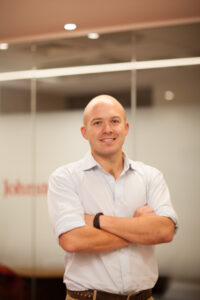 Specialising in shipbuilding disputes, marine insurance, and admiralty proceedings, Murray is a seasoned litigator in London's High Court and LMAA Arbitration and has been directly involved in several landmark decisions. He mainly acts for (re)insurers of hull and machinery, liability, cargo and war risks in the UK and European markets. He re-joins CJC following a two-year period working with other maritime law firms.
Murray also advises on complex disputes arising under contracts of carriage, shipbuilding contracts and insurance policies, while his experience extends to limitation, salvage, towage, general average, piracy, collisions and wrecks. Beyond litigation, he has assisted on vessel sale & purchase/(re)financing and advised on drafting transactional documents and policy wordings. Coinciding with the announcement, CJC has said that the following have also been appointed managing associates: Amy Lindemann, Helen McCormick, Kate Law, Richard Guy, Richard Hickey, William Stansfield and Danyel White (London office); Neil Jackson (Newcastle); and Andrew Shannon (Singapore). "We are delighted to welcome Richard back to CJC and look forward to continuing to work together with him and the rest of the team," said Maria Borg-Barthet, Director, CJC. "We are also pleased to acknowledge the responsibilities that key members of the CJC team have already assumed as we continue to pursue our ambitions for growth by developing great talent and retaining it." Consistently ranked as one of the 'Legal 500' for ligation, Campbell Johnston Clark also recently secured a separate Legal 500 ranking for its transactional work in Shipping Finance.
About Campbell Johnston Clark:
Campbell Johnston Clark (CJC) is an international law firm founded in September 2010 specialising in shipping and international trade. CJC has undergone sizeable expansion in both numbers of solicitors and geographical spread since its opening. We have offices in London, Newcastle, Singapore and Miami with approximately 70 staff and consultants worldwide. We have firmly established our presence in the London and overseas shipping markets with clients and fellow practitioners alike. We advise on all aspects of the shipping sector, from ship finance to dry shipping and comprehensive casualty handling, and everything that happens in between.