19 March, 2013 – World leading classification society ClassNK (Chairman and President: Noboru Ueda) has announced that it has completed the acquisition of U.S. safety management consultancy, Safety Management Systems, LLC (SMSLLC). The acquisition marks the first time that ClassNK has acquired another company in its 113-year history, and comes as part of a broader expansion into the U.S. domestic and brown water shipping industries.
Portland, Maine-based SMSLLC is widely considered to be one of the United States' top safety management consulting firms, most notably having been chosen by the New York Department of Transportation to assist the Staten Island Ferry to develop a world class safety management system following a fatal accident in 2003. Today, SMSLLC clients include a diverse range of U.S. commercial and public operators managing domestic and foreign flagged vessels.
ClassNK Chairman and President Noboru Ueda announced the acquisition during a press conference at the Connecticut Maritime Association's Shipping 2013 exhibition. "Until now, ClassNK has focused primarily on the certification of safety management systems, but it is the development and implementation of safety management systems where owners face the most challenges and can secure the greatest benefits. With the acquisition of SMSLLC, we can now offer inland, coastal, offshore, and ocean going vessel owners full support throughout the safety management process."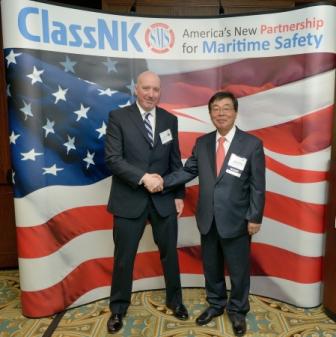 Mr Bill Mahoney, Director, SMSLLC (left) and Mr Noboru Ueda, Chairman and President, ClassNK
Bill Mahoney, Director of SMSLLC added: "We've worked alongside ClassNK for many years, and we greatly respect each other as leaders in our respective fields. With this new partnership we will be able to combine our expertise and reputation in the U.S. shipping industry with the resources and support of the world's largest classification society. This is a partnership that will allow us to expand out services, not just for the benefit of our clients, but for the benefit of the entire U.S. maritime sector."
The acquisition of the SMSLLC follows closely on ClassNK's recognition by the U.S. Coast Guard (USCG) and authorization to carry out surveys for U.S. flagged vessels granted in December 2012. Adding to the backdrop of the acquisition are recent USCG and industry led efforts to bring safety management practices, similar to those found in the International Safety Management (ISM) Code, to America's inland river or "brown water" shipping sector.
According to industry sources, tugs and barges on the Mississippi and other rivers transport 20% of U.S. coal and 60% of U.S. grain exports, making the sector an important component of international maritime trade. This point was highlighted by ClassNK Executive Vice President Yasushi Nakamura, who stated: "The brown water industry is not just essential to the maritime industry here in the U.S., it is essential to the world maritime industry. As we classify more than 35% of the world's bulk carriers, a significant portion of U.S. grain and coal are transported on NK classed vessels, so we know this first hand."
Mr. Nakamura also noted the benefits of safety management, and its potential to help the industry as it adjusts to new regulations: "Safety management is an important tool that can help owners and operators greatly reduce accidents caused by human error. ClassNK helped develop the ISM Code, and we are the world's leading provider of ISM certification, and we believe our experience with ISM globally will contribute to the safety of the brown water industry, as well."
Nevertheless, ClassNK recognized the need to adapt ISM systems used internationally to the specific scope and needs of the brown water industry, which is one reason for the acquisition of SMSLLC. "Working with SMSLLC we can utilize our experience and the expertise of SMSLLC to tailor safety management systems that are specific to the needs of inland and brown water operators. Our shared commitment is to provide high-quality and cost-effective solutions to the industry."
For more information about ClassNK's acquisition of SMSLLC
and expansion into the U.S. maritime industry, please contact:
ClassNK Executive Operations Division
Tel: +81 3-5226-2047
Fax: +81 3-5226-2024
Email: eod@classnk.or.jp
Safety Management Systems, LLC
Tel: +1 207-321-2830
Email: info@smsllc.com