12 November 2018 – Leading classification society ClassNK and TÜV Rheinland have concluded a worldwide partnership agreement for cybersecurity services.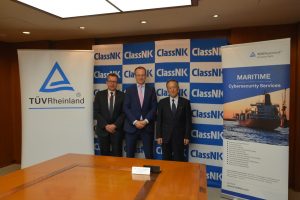 ClassNK is a classification society which carries out surveys to help ensure the safety of vessels and marine structures, and has many achievements involving the certification of ship equipment. TÜV Rheinland is a global leader in testing, inspection and certification services providing digital services for safety, cybersecurity and privacy. Earlier, ClassNK and TÜV Rheinland built a cooperative relationship through the signing of partnership agreements in 2012 for wind turbine certification and in 2015 for test and product certification.
With their most recent partnership agreement, both parties have agreed to comprehensively collaborate in jointly developing and delivering a cybersecurity certification scheme for the maritime industry. Utilizing the knowledge and strength from the services they each provide, they will collaborate globally in the field of cybersecurity in order to further ensure the safety of vessels. Under the agreement, ClassNK will first team up with TÜV Rheinland to work on the cybersecurity guidelines that target onboard software currently being developed by the society. This partnership will also bring efficient and pragmatic cybersecurity certification services to meet the maritime sector's needs.
ClassNK President and CEO Koichi Fujiwara said, "I am pleased to be able to further strengthen our collaborative relationship with TÜV Rheinland. Digital transformation is changing the way that business is conducted and offering more opportunities, while cybersecurity is an essential factor to its promotion and adoption in the maritime industry. Through the new partnership, we will do everything possible to overcome the cybersecurity challenges of the industry by combining TÜV Rheinland's abundant expertise and our society's accumulated knowledge and experience on management systems for ship operations as well as the structure, machinery and other components of ships themselves."
TÜV Rheinland's Chairman Dr. Michael Fübi said "Combining our expertise and experience in Industrial Services and Information Technology (IT), Operational Technology (OT) and cybersecurity, we are one of the few organizations developing deep capabilities to offer this level of cybersecurity expertise to maritime industry which is concerned with the safety on-board vessel, compliance with regulatory requirements for cybersecurity, risk assessment and certification. The priority for TÜV Rheinland is to continue delivering its mature cybersecurity services to maritime sector across the globe to protect shareholder investment from cyberattacks and strengthen confidence of regulators and governments."

About ClassNK
Established in 1899, ClassNK is a world-leading classification society. As a non-profit, independent organization, its mission is to safeguard life and property at sea whilst protecting the marine environment. It offers a wide range of services that encompass every aspect of ship classification from the development of technical rules and guidelines to the approval of ship designs, and the survey and registration of vessels and installations. Boasting roughly 20% of the world's merchant fleet on its register and over 130 offices located across 50 nations, ClassNK provides indispensable infrastructure to the maritime industry. Website: www.classnk.com

About TÜV Rheinland
TÜV Rheinland is a global leader in independent inspection services, founded 145 years ago. The group maintains a worldwide presence of more than 20,000 people; annual turnover is nearly EUR 2 billion. The independent experts stand for quality and safety for people, technology and the environment in nearly all aspects of life. TÜV Rheinland inspects technical equipment, products and services, oversees projects, and helps to shape processes and information security for companies. Its experts train people in a wide range of careers and industries. To this end, TÜV Rheinland employs a global network of approved labs, testing and education centers. Since 2006, TÜV Rheinland has been a member of the United Nations Global Compact to promote sustainability and combat corruption. Website: www.tuv.com

Digital Transformation & Cybersecurity
For over 20 years, TÜV Rheinland's Digital Transformation & Cybersecurity Business Stream has been helping companies from various industries, government agencies and public institutions to use innovative technologies securely. With nearly 1,000 consultants worldwide, our experts have a high level of industry knowledge about digital transformation and cybersecurity.  Our digital transformation service portfolio includes innovative solutions in the areas of intelligent data, critical infrastructures and networked solutions. In an increasingly vulnerable world of networked systems and devices, our cybersecurity solutions aim to combine security and data protection. Our team carries out cybersecurity tests, industrial security tests and data protection tests on the Internet of Things (IoT) and cloud infrastructures, among others. TÜV Rheinland has a worldwide network of more than one hundred laboratories, which support manufacturers with a single source for product safety, cybersecurity and data protection.

For more information on this topic please contact:
ClassNK
Public Relation Team, Planning Division
Tel: +81-3-5226-2047
Email: eod@classnk.or.jp
TÜV Rheinland Singapore Pte Ltd.
Director of Marketing
India, Middle East, Africa and Asia Pacific
Jane Lim
Tel: +65 6562 8750 *3355
Email: jane.lim@tuv.com
Communications Senior Executive
Prudence Poh
Tel: +65 6562 8750 *3357
Email: prudence.poh@tuv.com