7 June, 2013 – The world's largest classification society ClassNK announced that it would be getting even bigger, and will soon open more than five new offices in Europe. The announcement was made during a press conference held during the Nor-Shipping 2013 exhibition, and was highlighted by a special signing ceremony which saw four renowned Northern European owners officially transfer nearly a dozen vessels to ClassNK.
The new expansion which includes new offices already established in Klaipeda, Lithuania, and Ebeltoft, Denmark will see ClassNK open new offices in Bergen, Norway; Würzburg, Germany; and Helsinki, Finland; with further offices planned in Ukraine and Sweden.
The importance of the new offices was emphasized by ClassNK Executive Vice President Yasushi Nakamura, who said: "As a non-profit organization, our goal is to reduce costs for the maritime industry. By expanding our presence in Europe, we can not only better serve the needs of the growing number of European owners who class their vessels with ClassNK, but also reduce the costs of surveys and certification costs for owners and manufacturers throughout the region.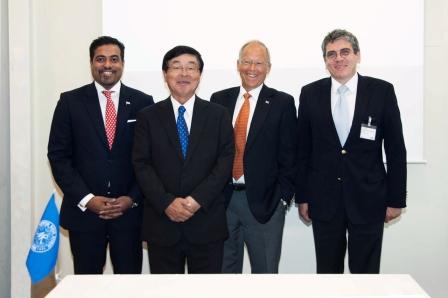 (From left to right:) Capt. Arun Sankar, Director, Johann M.K. Blumenthal GmbH & Co. KG; Noboru Ueda, Chairman & President ClassNK; Tom Christensen, Director, Stove Rederi AS Bogdan Radovanovici; Head of Technical Department, Orion Bulkers GmbH & Co.
KG
The addition of offices represents a 25% increase in the size of ClassNK's network in Europe, an expansion made necessary by the growing number of European owners who are classing their vessels with the Society.
ClassNK's strategy to enhance operations in Europe was signaled by its expansion of the ClassNK Hamburg Office in 2011, in a move to provide better support to the shipowning community in Northern Europe. This move has paid dividends for ClassNK, which set new records for the number of vessels and total tonnage added to its register in 2012.
Speaking during the press conference, ClassNK Chairman and President Noboru Ueda noted that "Nearly 1000 vessels and more than 25 million gross tons were added to the NK register in 2012; a new record for NK and a historic success that we owe in no small part to the support of shipowners in Europe."
ClassNK's recent growth has been led by German owners and Norwegian who have together transferred nearly 100 existing and newbuilding vessels totaling more than 2.5 million gross tons to ClassNK since the beginning of 2012. The growing trend among European owners to choose ClassNK for their vessel classification was clear during the signing ceremony held as part of the conference, which commemorated the official transfer of three existing bulk carriers from Orion Bulkers GmbH & Co. KG, two bulk carrier newbuildings from Johann M. K. Blumenthal GmbH & Co. KG, one existing tanker from Medallion Reederei GmbH, and five bulk carriers from Norway's Stove Rederi AS to the ClassNK register.
Speaking on the occasion Chairman and President Ueda stated: "As we welcome these vessels to the ClassNK family, we promise to continue our efforts to better support the growth and development of the maritime industry here in Europe and provide even better service to owners and operators throughout the maritime community."
For more information
please contact:
ClassNK Executive Operations Division
Tel: +81 3-5226-2047
Email: eod@classnk.or.jp