6 July, 2016 – ClassNK appointed the Global Technology Assessment Center (GTAC) of TÜV Rheinland Japan as a certified laboratory today at an appointment ceremony held at GTAC in Yokohama. The appointment is in accordance with a worldwide partnership agreement that the two parties entered into in September 2015 to expand their testing and certification services portfolio and better serve their clients.
ClassNK is a leading nonprofit classification society with extensive experience in certifying products, materials and equipment for marine use and TÜV Rheinland is world renowned as a product safety testing and certification body. Product safety testing carried out by GTAC of TÜV Rheinland Japan is accredited by worldwide accreditation bodies like DAkkS and JNLA according to ISO/IEC17025.
Advances in technology and economic growth mean that more and more equipment are being designed for both on-shore and maritime installations. Manufacturers of this dual-use equipment face lengthy and costly testing and certification processes before their products can be placed on the market.
The appointment reduces the burden for manufacturers by streamlining the testing process and eliminating the need for a ClassNK representative to attend some testing for type approval certification of automatic devices and equipment for both on-shore and maritime installations. The scope of the appointment includes a number of environmental tests, such as dry heat tests, damp heat tests, vibration tests, cold tests, salt mist tests and EMC tests.
ClassNK's Chairman and President Mr. Koichi Fujiwara said: "Through combining the know-how and experience of TÜV Rheinland and ClassNK, we aim to better serve our clients by providing greater efficiency in testing and certification whilst maintaining the same high standard of quality."
TÜV Rheinland's Executive Vice President Products Mr. Holger Kunz said "We are very glad about this appointment, which will bring significant cost and time saving to our clients seeking testing and certification for either on shore or on board products."
ClassNK and TÜV Rheinland will continue to come together and further share their knowledge and experience in order to provide their clients with more convenient equipment testing and certification services.
About
ClassNK
Established in 1899, ClassNK is a world-leading classification society. As a non-profit, independent organization, its mission is to safeguard life and property at sea whilst protecting the marine environment. It offers a wide range of services that encompass every aspect of ship classification from the development of technical rules and guidelines to the approval of ship designs, and the survey and registration of vessels and installations. ClassNK boasts roughly 20% of the world's merchant fleet on its register and over 130 offices located across 54 nations.
www.classnk.com
About TÜV
Rheinland Group
TÜV Rheinland is a global leader in independent inspection services, founded 140 years ago. The group employs 19,600 people around the globe. Annual turnover is nearly €1.9 billion. The independent experts stand for quality and safety for people, technology, and the environment in nearly all aspects of life. TÜV Rheinland inspects technical equipment, products and services, and oversees projects and processes for companies. Its experts train people in a wide range of careers and industries. To this end, the company operates a global network of approved labs, testing and education centers. Since 2006, TÜV Rheinland has been a member of the United Nations Global Compact to promote sustainability and combat corruption.
www.tuv.com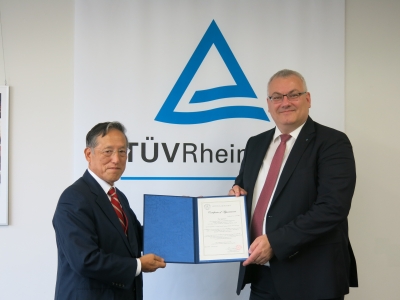 ClassNK Chairman and President Koichi Fujiwara handing over the appointment certificate to TÜV Rheinland's Executive Vice President Products Mr. Holger Kunz.
For more information on
this topic please contact:
ClassNK
Certification Service Planning Department
Toshiro Koiwa
Tel: +81-3-5226-2412
Fax: +81-3-5226-2179
email:qpd@classnk.or.jp
TÜV Rheinland Group
TÜV Rheinland Japan Ltd.
Communications, Marketing
Miho Ida, Misao Sawa, Yukiko Yoshiie
Tel: +81-45-470-1850
Fax: +81-45-470-8055
email: pr@jpn.tuv.com