1 September, 2014 – Mr. Noboru Ueda, Chairman and President of ClassNK attended the delivery ceremony for the M/T Al Yarmouk, constructed at Daewoo Shipbuilding & Marine Engineering Co., Ltd. (DSME) and delivered to Kuwait Oil Tanker Co. S.A.K. (KOTC) in Geoje, Korea on 25 August 2014.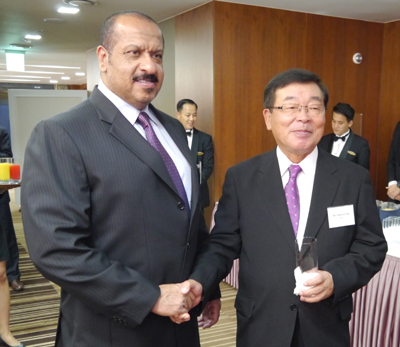 ClassNK-1-9-14Left: Sheikh Talal Al-Khaled Al-Ahmad Al-Sabah, Chief Executive Officer of KOTC; Right: Mr. Noboru Ueda, Chairman and President of ClassNK
The 317,300DWT very large crude carrier (VLCC), named the M/T Al Yarmouk following its delivery to KOTC, was built as Hull No. 5391 at DSME under ClassNK Rules and Regulations and in line with KOTC's strict standards on safety and environmental performance. During the construction, ClassNK provided extensive professional and technical services for successful completion of the vessel.
Representing ClassNK, Mr. Noboru Ueda, ClassNK Chairman and President attended the delivery ceremony. At the ceremony, Mr. Ueda expressed his congratulations on behalf of ClassNK to the KOTC representatives for the successful delivery of the vessel and confirmed ClassNK's commitment to the remaining vessel project.
ClassNK will continue to provide the highest quality classification services for the M/T Al Yarmouk in addition to its some 8,600 vessels already on under class.
For more information on
this topic please contact:
ClassNK Executive Operations Division Tel: +81-3-5226-2047
Email: eod@classnk.or.jp