08 September 2023 – ClassNK, Consort Bunkers Pte Ltd, Daihatsu Diesel Mfg. Co.,Ltd., Daikai Engineering Pte. Ltd., and SeaTech Solutions International (S) Pte Ltd. have concluded a Memorandum of Understanding concerning a joint study on an ammonia fueled ammonia bunkering tanker. The MOU was signed by representatives of all five parties with the presence of an official from Maritime and Port Authority of Singapore at the "Gastech2023" held in Singapore.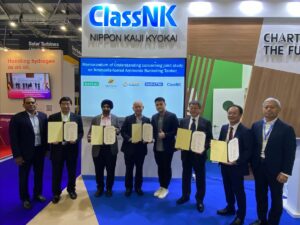 Amid expectation for using ammonia fuel in pursuit of shipping decarbonization, bunkering ships for ammonia fueled ships will play an essential role in the supply chain. As such ships are also anticipated to use ammonia as their fuel, the development of ships that can not only transport and supply ammonia to other ships but also use it as fuel in a safe and efficient manner addressing ammonia-related risks, including its toxicity to humans and corrosiveness to materials.
Consort Bunkers operating bunkering ships in Singapore, the world's largest bunkering port, Daihatsu Diesel developing alternative fuel engines including ammonia, Daikai Engineering providing sales of machinery and marine equipment and after-sales service in the Southeast Asian region; ClassNK, a class society involved in the safety assessment of ships; and SeaTech Solutions International designing ships equipped with alternative fuel engines, have all agreed to jointly study the concept design of the ammonia fueled ammonia tanker and the issuance of relevant Approval in Principle. Under the MOU witnessed by Maritime and Port Authority of Singapore, the five parties will pool their expertise and collaborate toward the realization of decarbonized shipping.
Hayato Suga, Executive Vice President, ClassNK said, "It is our great pleasure to work together with prominent partners to fill in the pieces for advancing decarbonization of shipping. ClassNK will strive to fulfill its role, reviewing the safety and integrity of the developed design in accordance with our rules related to ammonia transport and its use as fuel, and hope to materialize the outcome as our AiP."
Yeo Siok Keak, Director/General Manager, Consort Bunkers Pte Ltd said, "We are much honored to be part of this collaboration with the various esteemed partners on the development of ammonia bunkering. Consort is looking forward to rendering full support in the collaborative study for concept design and AiP initiative towards the realization of decarbonized shipping."
Yoichi Hayata, Director, Technical Management Division, Daihatsu Diesel Mfg. Co., Ltd. said, "Recently, there has been an urgent need to reduce GHG emissions from ships, and the use of ammonia as a zero-carbon fuel has been attracting attention, however, there are issues with combustibility and safety. We have already conducted basic tests on ammonia, and have obtained knowledge on combustion characteristics, trends in exhaust gas emissions, precautions for handling, etc. Utilizing this knowledge, we will join forces with MOU member companies and contribute to the cooperation in acquiring ammonia bunkering vessel AiP and the development of GHG reduction technology."
Mikio Kaneda, Managing Director, Daikai Engineering Pte. Ltd., said, "We are both honoured and excited to be part of this collaborative venture. The maritime industry stands at the cusp of a transformative era, and our joint effort to develop an ammonia-fueled vessel embodies our collective commitment to sustainable innovation. Together, we are not just envisioning a greener future; we are actively working to make it a reality."
Govinder Singh Chopra, Managing Director, SeaTech Solutions International (S) Pte Ltd. said, "SeaTech is committed to the MPA initiative for the Net Zero decarbonization of Singapore Harbour Vessels. I am looking forward to embarking on this new chapter of sustainable innovation with Consort Bunkers, ClassNK, Daihatsu Diesel and Daikai. We have formalized our commitment with the signing of this MOU for the AiP of the Ammonia Bunkering Vessel design, gearing up the Singapore Bunker Industry for safe ammonia bunkering. Together, we are paving the way for a greener, safer, and more efficient maritime sector."
Capt M Segar, Assistant Chief Executive (Operations), Maritime and Port Authority of Singapore, said , "MPA welcomes studies, pilots, and collaborations that contribute to the maritime sector's decarbonisation efforts. Joint studies such as the one under this MOU, are useful in bringing together the collective expertise and experience of various leading stakeholders to deepen the industry's knowledge and confidence in handling the new future fuels, and to accelerate the development of future fuel solutions to meet the revised IMO GHG emission ambitions for international shipping"
Approval in Principle (AiP):
At the initial stage of designing or before the specific target ship to be implemented is decided, the design is examined based on the existing regulations such as international conventions and ship classification rules, and an Approval in Principle (AiP) is issued as proof of conformity with requirements. It also prevents rework of regulatory aspects in the post-process, shortens the examination time at the time of class registration, and can be used as a technical basis for external appeal of the design status. For more information, visit our website.
About ClassNK
Established in 1899, ClassNK is a classification society dedicated to safety and environmental protection through third-party certification. ClassNK has conducted diverse technical services including surveys and classifications of ships and marine structures based on its own rules, international conventions on behalf of more than 100 flag states, management system certifications in line with ISO and other industry standards. ClassNK has committed to provide the industry with its full support to pave the way for digitalization and decarbonization challenges through the expanding certification service and R&D with industry partners.
For more information, visit https://www.classnk.com
About Consort Bunkers
Consort Bunkers Pte Ltd is one of the leading independent bunkers suppliers in Singapore. With over 30 years of experience in bunker trade, barging and shipping logistics. Consort Bunkers has established itself as a trusted and dependable brand name in the world's premier bunkering ports. Consort Bunkers currently owns and time-charter a fleet of 13 bunkering vessels in 7 ports – the port of Singapore, Fujairah, Dubai, Khor Fakkan, Abu Dhabi, Zhoushan and Ningbo. The company is also on plan to take delivery of four more 7,999 DWT barges by end of 2023. In 2023, Consort Bunkers was one of the pioneers that prepared for green energy and to construct methanol-ready IMO Type II chemical tankers, expected to be delivered between H2 2024 and H1 2025. These six 6,500 DWT chemical tankers marks the start of our new chapter – going into green energy. Widely recognized as an innovative and forward-looking company, Consort Bunkers is constantly striving for excellence in bunkering services and technology by providing premier bunkering barges to serve the industry. Our modern and young fleet of sophisticated vessels is testament to our commitment.
For more information, visit https://www.consortbunkers.com.sg/
About Daihatsu Diesel Mfg. Co.,Ltd.
Established in 1966, Daihatsu Diesel Co., Ltd. manufactures diesel engines for medium and large ships (for power generation and main propulsion), diesel engines for land use (for power generation and pumps), gas turbines, and gas engines. We supply energy such as electric power and motive power to various parts of the world, and are actively working to protect the global environment by developing an exhaust gas after-treatment equipment and responding to various alternative fuels.
For more information, visit https://www.dhtd.co.jp/en/
About Daikai Engineering Pte. Ltd.
Daikai Engineering was established in 1992 to provide professional engineering services worldwide, specialising in marine, industrial, and powerplant equipment such as diesel engines, propellers, boilers, scrubbers, pumps, and essential after-sales services. Daikai has an experienced team of engineers capable of providing quality solutions to meet the demands of its diverse customers.
For more information, visit https://www.daikai.com/
About SeaTech Solutions International (S) Pte Ltd.
SeaTech Solutions International, a Centre of Excellence in marine & offshore vessel design, boasts a portfolio of over 410 unique, eco-friendly, and energy-efficient designs, with more than 670 vessels operating worldwide. Specializing in high-performance, tailor-made solutions, SeaTech guarantees optimal performance and functionality for both operators and shipyards. Clients value the benefits from SeaTech's innovative designs receiving trusted solutions tailored to their specific operations. True to their vision of "A Sea of Technology", SeaTech exemplifies design excellence by using advanced software to create green, ultra fuel-efficient designs. At its core, SeaTech stands for reliable, eco-centric, and customer-centric solutions.
For more information, visit www.SeaTechSolutions.com