7 February, 2014 – Leading classification society ClassNK (Chairman and President: Noboru Ueda) has made a donation of desks, uniforms and educational materials to the ZP Primary School (Takwe-Khurd, Maharashtra) near the Indian capital Mumbai, as part of its Corporate Social Responsibility activities in India.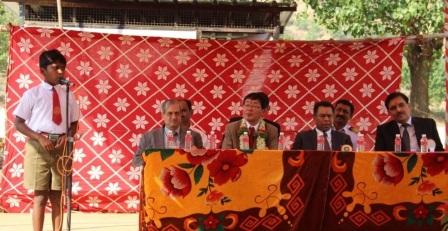 ClassNK Chairman and President Noboru Ueda center with Regional Manager of India A. Pradhan left
As part of these activities, ClassNK has been making donations of educational materials to the school for over the past 3 years. Chairman and President Noboru Ueda visited the school on 6 February 2014 to meet with the faculty and present the donation in person. After observing the students at their studies, Mr Ueda met with Headmaster Mr. Ganesh B Chaskar, where he pledged to continue the donations of the educational materials to ZP Primary School.
ClassNK established its first Indian exclusive survey office in Mumbai in 1985, marking the start of ClassNK's technical services in India. ClassNK currently operates six exclusive survey offices in India, and is constantly seeking to expand the scope of its technical services throughout the country. ClassNK has been providing statutory surveys to a great number of Indian-flagged vessels for owners across India since receiving authorization from the Indian government to carry out a range of surveys on its behalf in 2005.
ClassNK is committed to expanding its operations in the Republic of India, and will continue contributing to education in the country.
For more information on this
topic please contact:
ClassNK Executive Operations Division
TEL: +81-3-5226-2047
e-mail: eod@classnk.or.jp