13 February, 2012 – Top Society Announces Further Expansion in Germany
World's leading classification society ClassNK has announced that it has earned authorization from Germany's BG Verkehr to carry out surveys on behalf of the German Government, and will be further expanding its operations in the leading ship owning nation. The announcement was made during a reception to commemorate the authorization at the prestigious Hafen-Klub on 11 February 2013. As the notified body for German flagged vessels under the EU Maritime Equipment Directive (MED 96/98/EC), BG Verkehr oversees all aspects of the German flag, including determining which classification societies can act on its behalf.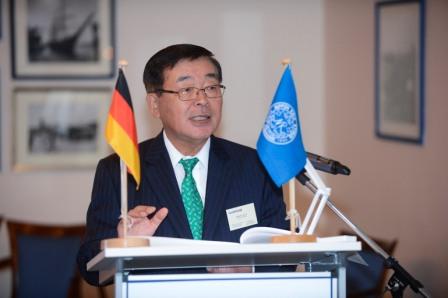 ClassNK Chairman and President Mr. Ueda announces authorization from BG Verkehr at the reception
The highlight of the reception, which drew more than 60 representatives from the German maritime community, was a presentation ceremony which saw Mr. Kai Krüger, speaking on behalf of Mr. Ulrich Schmidt, Head BG Verkehr's Ship Safety Division presenting an official certificate of authorization from BG Verkehr to ClassNK Chairman & President Noboru Ueda. The authorization allows ClassNK to carry out a full range of surveys for the international conventions for all German flagged vessels.
Speaking on the occasion, Mr. Ueda offered his deepest thanks and appreciation to BG Verkehr and the entire German maritime community for its support, saying: "This recognition is an important step forward in our ongoing expansion here in Germany. We are deeply honored to be able to serve on behalf of the German flag administration, and will dedicate our full resources to supporting the needs of the German maritime community in the days and years to come."
Since reorganizing its operations in 2011 and placing top survey experts on call in ClassNK's Hamburg Office, German owners have transferred roughly 50 vessels totaling 1.5 million gross tons to the ClassNK register. Transfers from German owners further accounted for roughly 1/5th of all vessels transferred to ClassNK in 2012, helping the world's largest class society set a new record for vessels registrations of more than 25 million gross tons in a single year.
In addition to speeches from Mr. Ueda and Mr. Krüger, Dr. Hermann J. Klein, CEO of Germany's Blue Star Holding and E.R. Schiffahrt, also took the podium to toast ClassNK's authorization and to congratulate NK on the authorization and incredible growth.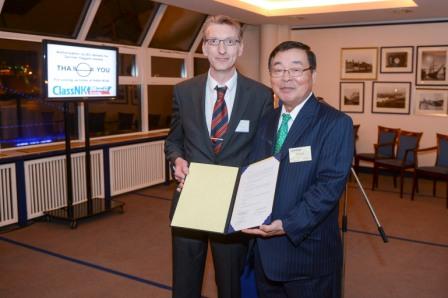 ClassNK Chairman and President Mr. Ueda (right) with Mr. Krüger, BG Verkehr (left)
In addition to the authorization announcement, ClassNK also announced that they would be further expanding their human resources and operations in Hamburg in order to better serve German shipowners. ClassNK had promoted Dr. Sergej Dalberg to serve to as the new General Manager of ClassNK's Hamburg Operations and doubled the number of expert staff in ClassNK's Survey Department in Hamburg in order to further support ClassNK's growing operations in the region.
For more information on ClassNK's
authorization by BG Verkehr, please contact:
ClassNK Executive Operations Division
Tel: +81 3-5226-2047
Fax: +81 3-5226-2034
Email: eod@classnk.or.jp
ClassNK Hamburg Office Add: Spaldingstr. 77a, 20097 Hamburg
Tel: +49-40-233032
Email: hb@classnk.or.jp