29 March, 2013 – World's leading classification society ClassNK (Chairman and President: Noboru Ueda) has announced that it earned authorization from the Romanian Naval Authority (RNA) to carry out surveys on behalf of the Romanian Government.
This announcement was made following a visit by ClassNK Executive Vice President Dr. Takuya Yoneya to Constantza, Romania on 13 March, during which Dr. Yoneya signed the authorization agreement with Romanian Naval Authority General Director Andrian Mihei. The agreement allows ClassNK to perform surveys for SOLAS, MARPOL, Load Line and other international conventions, as well as perform audits and issue certificates to Romanian flagged vessels on behalf of the Romanian Government.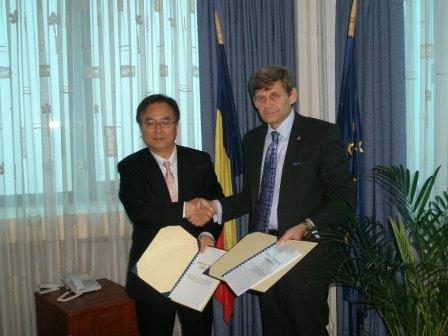 ClassNK 5-4-13ClassNK Executive Vice President Dr. Yoneya (left) with RNA General Director Andrian Mihei (right)
Speaking on the occasion, Chairman and President Noboru Ueda said: "With the opening of our Constantza Office in November 2001 and the completion of the first NK-classed newbuildings in Romania in May 2012, our partnership with the Romanian maritime industry has steadily grown."
"Following our authorization from BG Verkehr earlier this year, our authorization by the RNA make this the second EU flag state to grant recognition to ClassNK this year, and the fifth in the past two years, marking our continued growth with the EU maritime community."
With the authorization from Romania, ClassNK is now authorized to perform surveys and audits on behalf of 15 Flag Administrations in the EU, and a total of 108 Flag Administrations throughout the world.
For more information on ClassNK's authorization by the
Romanian Naval Authority please contact:
ClassNK External Affairs Division
Tel: +81 3-5226-2038
Fax: +81 3-5226-2024
Email: xad@classnk.or.jp
ClassNK Constantza Office
Tel: +40-2-41-508386
Fax: +40-2-41-508391
Email: cz@classnk.or.jp