10 September, 2014 – Leading Class Society Joins Joint R&D Project for Bulk Carrier Safety with Germany's HSVA and other European Research Institution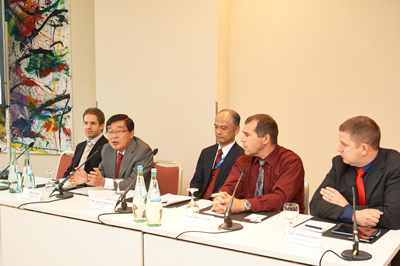 (Pictured left to right) Mr. Marco Schneider, Project Manager, CFD, HSVA, Mr. Noboru Ueda, Chairman and President, ClassNK, Mr. Yasushi Nakamura, Executive Vice President, ClassNK, Capt. Herman Visser, Oldendorff Carriers
Leading classification society ClassNK (Chairman and President: Noboru Ueda) has announced that it will join a new European Joint R&D project to ensure bulk carrier safety. The project, called LiquefAction, aims to better understand the physical properties of cargo liquefaction in order to prevent bulk carrier casualties and is being carried out by a consortium of Europe's top research institutions, including Germany's Hamburgische Schiffbau-Versuchsanstalt (HSVA) and Hamburg University of Technology (TUHH), as well as France's Ecole Central de Nantes (ECN) and the Institute of Science and Technology for Transport, Development and Networks (IFSTTAR), with support from German shipowner Oldendorff Carriers. The project is being sponsored by Germany's Bundesminister für Wirtschaft und Energie (BWMi) and France's Ministère de l'Ecologie, du Développement durable et de l'Energie (MEDDE).
Cargoes that may liquefy, which include nickel ore and a variety of other cargoes including other ore fines, are widely recognized as one of the leading causes of bulk carrier casualties. Over the past decade such cargoes have been linked to loss of more than a dozen bulk carriers and the deaths of more than 70 sailors.
While awareness of the risks of such cargoes has grown over the past several years, little is still known about the factors that cause cargo liquefaction – especially what effect dynamic motions from waves and ship propulsion have on such cargoes. Understanding such factors is key to preventing future casualties, and is the driving force behind the new project.
ClassNK is the world's leading classification society in the dry bulk sector, providing survey and classification services to more than one-third of the world's bulk carrier fleet. The society has been widely recognized for its work related to the safe transport of nickel ore, which BIMCO and other industry groups have named the "world's most dangerous cargo."
ClassNK's Guidelines for the Safe Carriage of Nickel Ore, which include both best practices for carrying nickel ore as well as standards for the construction of specialized ships designed to carry such cargoes, have been widely praised throughout the maritime industry. First published in 2011, with a revised edition in 2012, the Guidelines earned ClassNK the Safety Award at the Lloyd's List Global Awards 2012 and the Safety at Sea Award at the Seatrade Awards in 2013, among others.
ClassNK's participation in the project has been greatly welcomed by the other consortium members says Dr. Jochen Marzi, Director of Computational Fluid Dynamics at HSVA. "We very much appreciate ClassNK's participation and strong support of this project, and believe that ClassNK's expertise and practical experience with these cargoes will help ensure the success of the project."
ClassNK's participation in the project marks one of the first times the society will participate in a major European research program for maritime safety, a step which follows the Tokyo-based Society's rapid expansion in Europe over the past several years. Since 2008, ClassNK has opened 10 new offices in Europe, as well as established a new Survey Operations Headquarters in its Hamburg Office, efforts which have earned the society a rapidly growing list of clients in Germany and throughout Europe.
ClassNK Chairman and President Noboru Ueda said: "Our goal is to support the safe growth and development of the maritime industry, not only in Japan or Asia, but in Europe and all around the world. We opened our Survey Operations Headquarters here in Hamburg not only to better support shipowners in the region – but also to better provide the knowledge and resources to address the many challenges we face as an industry. With this project we are one step closer to achieving that goal."
That sentiment was echoed by ClassNK Executive Vice President Yasushi Nakamura, who said: "Ensuring the safety of ships and their crews is not an Asian issue or a European issue, it is a global issue. With this project we are combining some of the top experts from Europe and Asia to ensure a safer future for the entire maritime industry."
For more information on
this topic please contact:
ClassNK Executive Operations Division
TEL: +81-3-5226-2047
E-mail: eod@classnk.or.jp