26 November, 2014 (Tokyo) – Leading classification society ClassNK (Chairman and President: Noboru Ueda) has granted approval to the design of the new 28AHX-DF dual-fuel engine developed by Niigata Power Systems Co., Ltd. The new engine is slated to be used as the main engine on a new LNG-fuelled tugboat being built by Keihin Dock Co., Ltd. for NYK Line. The vessel will be Japan's first LNG fuelled vessel, excluding LNG carriers.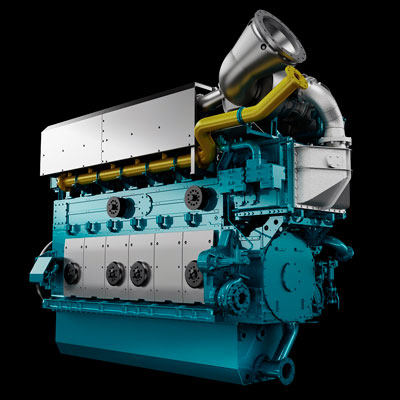 Niigata-28AHX-DF-dual-fuel-engineNiigata's new 28AHX-DF dual-fuel engine will be used as the main engine on a LNG-fuelled tugboat being built by Keihin Dock Co., Ltd. for NYK Line
New regulations for Emission Control Areas (ECA), including new stricter limits on sulfur emissions as well as the IMO's Tier III NOx emission limits, are driving demand for new engine and emission control technologies. The high costs associated with low sulfur fuels, and the increasing availability of LNG is driving both vessel owners and machinery manufacturers to consider the use of LNG as a vessel fuel.
Niigata's 28AHX-DF is a medium-speed duel-fuel engine with a maximum rated power per cylinder of 320kW and was developed for use primarily in offshore support vessels and tugboats. The engine, which operates on both diesel fuel and LNG, will meet the strict 0.1% sulfur emissions regulations in the ECA that are set to go into effect in 2015, as well as comply with the IMO's stringent Tier III NOx emission requirements. Technologies used in the new engine were developed with the support of Japan's Ministry of Land, Infrastructure, Transportation & Tourism (MLIT), as well as ClassNK as part of the society's Joint R&D for Industry Program.
Mr. Yukihisa Shibata, General Manager of ClassNK's Machinery Department said: "The demand for dual-fuel engines is increasing as IMO restrictions tighten and the industry recognizes the importance of environmental accountability. Supporting the development of such low-emission engines is one way we can help ship operators and manufacturers practically address the challenges of these new regulations, and encourage the wide spread use of this new technology."
The state-of-the-art dual-fuel engine has a maximum rated speed of 800 min-1 with a cylinder bore of 280mm and a 390mm stroke. The model engine will undergo trial operational testing and is expected to receive type approval from ClassNK in December.
For questions or further
information please contact:
ClassNK Machinery Department
Tel: +81 3-5226-2022
Fax: +81 3-5226-2024
Email: mcd@classnk.or.jp