16 February 2023 – ClassNK granted the Class C Innovation Endorsement Provider Certification to VesselsValue Ltd., which provides daily updated ship values and data based on the latest market insights and intelligence.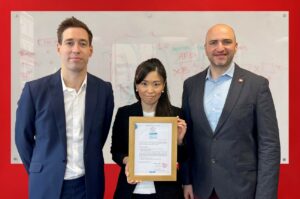 ClassNK offers its third-party Innovation Endorsement "Provider Certification", which supports innovative initiatives for companies and organizations. As companies pursue ESG-oriented management and SDGs, ClassNK conducts third-party certification on the initiatives to transform their own business methods and organizations to establish a sustainable and competitive business.
There are three categories of certification available to companies according to their innovation activity stage:
Class C (Concept: Organizational policy and system in place for innovation)
Class D (Development: Specific innovation activities being carried out)
Class S (Sustainable Implementation: Sustainable innovation with results implemented in the business)
VesselsValue outlines themselves as they have developed the world's first algorithm driven online ship valuation services, and provided daily updated ship values and data based on the latest market insights and intelligence under a policy of providing objective and transparent market intelligence to their customers in a new and innovative way, combining deep market insight, state-of-the-art statistical methods, in house experts and computer technologies. VesselsValue has a proven track record of providing advanced and accurate online ship valuation services from their nine global offices, and contributes to their client's decision making abilities by utilising the latest technologies, AI and statistical methods that have been tried and tested for over eleven years.
ClassNK conducted an audit of the VesselsValue's systems, focusing on their policies, plans and organizational structure in the innovative services they are providing, confirmed that the organization and its innovation activities meet the Class C stage requirements, and issued the Class C Innovation Endorsement Certificate for Providers.
ClassNK will further promote its Innovation Endorsement for Ships, Products & Solutions, and Providers, and strive to support innovative technologies and initiatives.
VesselsValue Press Room
https://www.vesselsvalue.com/press

ClassNK Innovation Endorsement at a glance:
https://youtu.be/5dCinEYgeos