November 30, 2012 – Leading classification society ClassNK (Chairman and President: Noboru Ueda) announced that it has certified the type specific ECDIS (Electronic Chart Display and Information System) training course provided by Philippine Standard Shipmanagement Inc. Philippine Standard Shipmanagement Inc. (PSSI) is an affiliate of Japanese ship management company NS United Marine Corp., a part of NS United Kaiun Group.
In recognition of the achievement, ClassNK Executive Vice President Koichi Fujiwara presented the certificate to Yasukazu Sakata, President of NS United Marine Corp, at a special ceremony held at ClassNK's Head Office on 21 November 2012.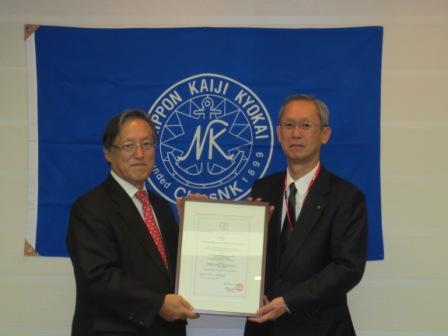 Koichi Fujiwara on the left presenting the certificate to PSSI Yasukazu Sakata
While new amendments to STCW convention require Generic ECDIS Training for masters and deck officers onboard ships with ECDIS systems, in accordance with the ISM code, some oil majors and Port State Control (PSC) authorities now request evidence of Type-Specific ECDIS training during vetting and PSC inspections. As oil majors, PSC authorities, and many flag states are now requiring Type Specific ECDIS training, proper ECDIS training is an increasingly important issue for shipowners and operators.
In order to address these new requirements, NS United Marine Corp. with cooperation of ECDIS system manufacturer Tokyo Keiki Inc. to establish a new ECDIS training centre at Manila-based PSSI, and turned to ClassNK to ensure that the new training could be carried out the high level required by the maritime industry. ClassNK's certification confirms that the training centre's ECDIS training is carried out in accordance with ClassNK's independently developed rules and maritime education standards.
For further information
on this topic please contact:
ClassNK Certification Service Department
TEL: +81-3-5226-2178 FAX: +81-3-5226-2179
e-mail: qad@classnk.or.jp