07 March 2023 – ClassNK has issued four Approvals in Principle (AiPs) to GTT, following latest development projects in alternative fuels, which were handed over during a ceremony in Tokyo on 6 March 2023.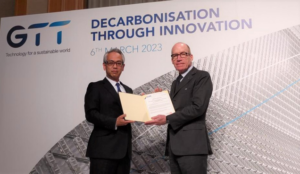 –   Concept of 12,500m3 LNG Dual-fuelled VLCC fitted with Mark III Flex system
–   Concept of LNG Fuel Tanks with NH3 ready notation that includes material compatibility with NH3, risk assessment and Boil-off gas management
–   Concept of 8,000 CEU PCTC LNG Dual-fuelled with NH3 ready notation
–  Recycool™ system applied to LNG fuelled vessels which is designed for allowing the reliquefaction of LNG evaporation in order to reduce greenhouse gas emissions and economic losses
ClassNK carried out the verification on those accomplishments in line with its rules including Part N incorporating the IGC Code, Part GF incorporating the IGF Code, and its Guidelines for Ships Using Alternative Fuels. Among the above, the AiP for Recycool™ marked a world-first AiP for a system of its kind.
Philippe Berterottière, Chairman and CEO of GTT, said: "We are very pleased to have received these Approvals in Principle in person and to be back in Japan after the global pandemic. These certifications confirm the research and innovation work performed by GTT engineers and technicians. We thank ClassNK for their trust in our technologies on alternative fuels."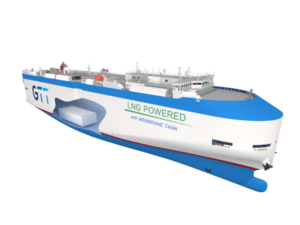 Masaki Matsunaga, Corporate Officer / Director of Plan Approval and Technical Solution Division, ClassNK said: "It is a great honor to welcome GTT's team back to Japan and hand over four AiPs for their innovative and inspiring concepts pursuing low and zero carbon shipping upon our rigorous verification process in line with the appropriate standards for each solution. We congratulate GTT on achieving these milestones and look forward to continuing our partnership with them in implementing sustainable energy initiatives."
Approval in Principle (AiP):
At the initial stage of designing or before the specific target ship to be implemented is decided, the design is examined based on the existing regulations such as international conventions and ship classification rules, and an Approval in Principle (AiP) is issued as proof of conformity with requirements. It also prevents the rework of regulatory aspects in the post-process, shortens the examination time at the time of class registration, and can be used as a technical basis for an external appeal of the design status. "Guidelines for Approval in Principle and General Design Approval" outlining the related certification process are available at My Page > Guidelines of ClassNK's website.
About GTT
GTT is a technological expert in containment systems with cryogenic membranes used to transport and store liquefied gases. For over 50 years, GTT has been designing and providing cutting-edge technologies for a better energy performance, which combine operational efficiency and safety, to equip LNG carriers, floating terminals, land storage, and multi-gas carriers. GTT also develops systems dedicated to the use of LNG as fuel, as well as a full range of services, including digital services in the field of Smart Shipping. The Group is also active in hydrogen through its subsidiary Elogen, which designs and assembles electrolysers notably for the production of green hydrogen.
GTT is listed on Euronext Paris, Compartment A (ISIN FR0011726835 Euronext Paris: GTT) and is notably included in SBF 120, Stoxx Europe 600 and MSCI Small Cap indices.
For more information, visit www.gtt.fr.
About ClassNK
Established in 1899, ClassNK is a classification society dedicated to safety and environmental protection through third-party certification. ClassNK has conducted diverse technical services including surveys and classifications of ships and marine structures based on its own rules, international conventions on behalf of more than 100 flag states, management system certifications in line with ISO and other industry standards. ClassNK has committed to provide the industry with its full support to pave the way for digitalization and decarbonization challenges through the expanding certification service and R&D with industry partners.
For more information, visit https://www.classnk.com