16 February, 2017 (Tokyo) – Leading classification society ClassNK has issued the first Type Certification for LED floodlights for port facility-use to Stanley Electric Co., Ltd., in line with its recently developed Guidelines for Type Certification of Floodlight LED for Port Facilities on 2 February 2017.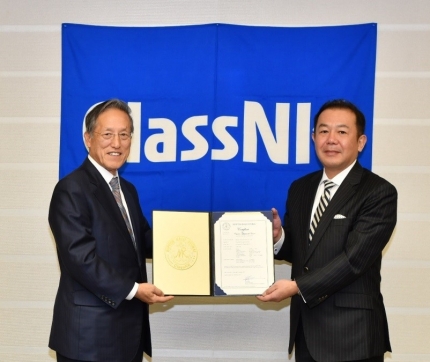 Pictured l-r: Koichi Fujiwara, Chairman and President (ClassNK); Masahiro Sagae Executive Officer, Executive General Manager Lighting Application Division (Stanley Electric)
Based on its extensive experience in certifying products, materials and equipment for marine use, ClassNK expanded its certification service portfolio with the introduction of LED floodlight certification. Major LED manufacturer Stanley Electric expanded into the maritime market with the development of LED floodlights for port facility use, and chose ClassNK to certify the new technology. Due to harsh weather conditions found at port terminals, high levels of durability are essential for LED floodlights. ClassNK certified that Stanley Electric LED floodlights are safe as well as highly durable.
Also, the introduction of increasingly stringent environmental regulations has seen the entire industry urgently looking at ways to reduce GHG emissions while improving their efficiency. Ports are no exception, and significant investment in eco-efficient technologies has been made in order to lower their carbon footprint in recent years. These LED floodlights, which consume less electricity than conventional sodium lights or mercury lamps and are suitable for use in port facilities, provide terminal operators with green alternative.
.
With this landmark certification, terminal operators are assured that this technology meets the high technical, safety, and durability standards outlined in ClassNK's guidelines.
For more information on this topic
please contact:
ClassNK Executive Operations Department
E-mail: eod@classnk.or.jp