December 13, 2012 – ClassNK announced today that it has issued the world's first Statement of Compliance (SOC) for a ship recycling facility to Jiangmen Zhongxin Shipbreaking & Steel Co., Ltd.
The Statement of Compliance issued by ClassNK certifies that the facility and its recycling procedures are fully in compliance with the Hong Kong International Convention for the Safe and Environmentally Sound Recycling of Ships, 2009 (Hong Kong Convention). This marks the first time that a ship recycling yard has achieved certification in line with the convention.
Established in 1984, Zhongxin has grown to become one of the largest ship recycling facilities in China, with a working yard occupying over 400,000 square meters and an annual ship breaking capacity of over 500,000 LDT. The yard has been a pioneer in green ship recycling, and earned recognition as a "AAAA" level Green Shipbreaking Enterprise from the China National Ship Recycling Association (CNSA) for its safe and environmentally sound ship recycling practices.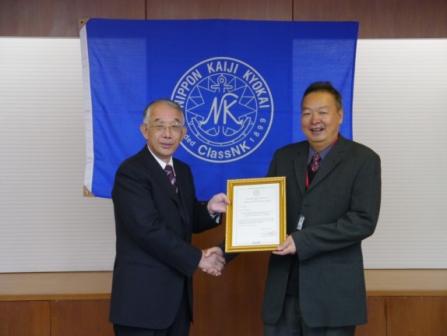 Mr Matsui and Zhongxin Mr Liang
Green ship recycling has become an important issue in the maritime industry, especially following the adoption of the Hong Kong Convention. In addition to growing concerns about corporate social responsibility, new local and international regulations are helping drive the demand for high quality ship recycling facilities which can recycle vessels in an environmentally friendly and safe manner.
After a thorough review of the Ship Recycling Facility Plan (SRFP) developed by Zhongxin with the assistance of Wilhelmsen Ship Management, ClassNK, working as a third party certification body, confirmed that the recycling practices of the yard were in compliance with the Hong Kong Convention, and issued the world's first SOC to the recycling yard. The SOC was officially presented to Zhongxin's Director, Mr. Liang by ClassNK Executive Vice President Toshitomo Matsui prior to ClassNK's Ship Recycling Seminar held in Tokyo on 13 December, which drew more than 300 representatives from Japan's shipowning community.