20 October, 2017 – The latest issue of the ClassNK Magazine is available for download here or to view online at the following link: ClassNK Magazine 81.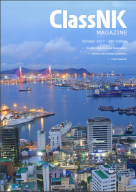 This edition includes a selection of articles about projects supported by ClassNK and its partners, such as:
• ClassNK's efforts to help shipowners prepare to meet ballast water regulations (p. 7-9)
• ClassNK's work towards the development of cyber security standards (p. 10-11)
• An interview with Mitsuhiko Kidogawa, Regional Manager of Europe and Africa, ClassNK London (p. 12-13)
We hope that you might find these and other articles included in this customer magazine of interest. If you wish to reproduce any of them, along with images, in your future editions then please do not hesitate to contact us.