19 August 2020 – The latest issue of the ClassNK Magazine is available for download here or to view online here.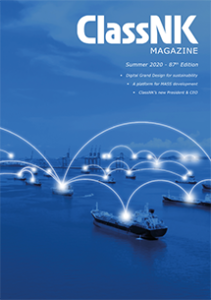 This edition focuses on developments and initiatives involving ClassNK and its partners, and includes:
An interview with ClassNK's new President & CEO (p. 8 – 9)
An article on ClassNK's Digital Grand Design for a more sustainable industry (p. 10 – 13)
An article detailing the new ClassNK guidelines for autonomous shipping (p. 14 – 17)
We hope that you find these and other articles in this customer magazine of interest. If you wish to reproduce any of them, along with images, in your future editions then please do not hesitate to contact us.
For more information please contact:
Debbi Bonner
Managing Director, JLA Media
+31 (0)65 263 0122
debbi.bonner@j-l-a.com