18 November, 2014 (Rotterdam) – Vessel performance monitoring and optimization solution ClassNK-NAPA GREEN was named the maritime industry's top IT system by earning the IT Solutions Award at the International Bulk Journal (IBJ) Awards held at the Beurs-World Trade Center in Rotterdam on 17 November.
The software solution, developed jointly by leading classification society ClassNK and leading global maritime software company NAPA, was recognized both as an advanced technical achievement and for reductions in fuel costs it has helped achieve and validate on actual vessels in service.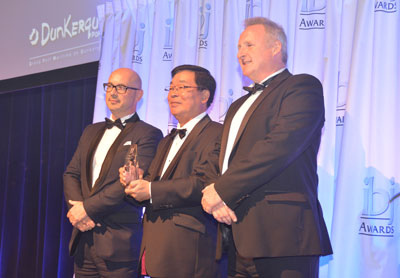 ClassNK Chairman and President Noboru Ueda receives the IT Solutions Award at the 2014 International Bulk Journal (IBJ) Awards
Held annually by the International Bulk Journal, the IBJ Awards recognize companies and individuals for their contributions to the bulk cargo sector and wider maritime industry in a variety of categories including environmental protection, bulk logistics and innovative technology. The Awards independent panel of judges chose ClassNK-NAPA GREEN from a number of nominated IT solutions for the technical achievement represented by the system, as well as its contribution to reductions in fuel costs and CO2 emissions from global shipping.
NAPA and ClassNK began developing ClassNK-NAPA GREEN to provide shipowners, operators, charterers, and shipyards with an integrated software system capable of monitoring and optimizing vessel and fleet performance. The software solution, which can be used on all major vessel types, combines advanced monitoring and analysis systems to optimize trim, speed and voyage routing among other factors, with a unique, self-learning Dynamic Performance Model which can estimate a vessel's performance in actual vessel operating conditions with an accuracy of as much as 99.6%.
In addition to installations on container carriers and Ro-Ro vessels, which have produced verified fuel savings of between 4-6%, ClassNK-NAPA GREEN has also been installed on bulk carriers built by Imabari Shipbuilding and Sanoyas Shipbuilding among others, and is currently being used by a number of shipbuilders to better understand the performance of their vessels in actual ocean conditions and optimize future designs.
ClassNK Chairman and President Noboru Ueda attended the ceremony, and accepted the award on behalf of NAPA and ClassNK. Speaking on the occasion, Chairman and President Noboru Ueda said: "It is an honor to receive this award and have ClassNK-NAPA GREEN recognized both by IBJ and the distinguished panel of judges.
This is a testament to the capabilities of ClassNK-NAPA GREEN, which we began developing in 2012 and is now being used by shipowners and operators around the world. Trials of ClassNK-NAPA GREEN have consistently achieved significant fuel savings for vessel operators and we are proud to see so many new owners and operators adopting this solution."
NAPA President Juha Heikinheimo said: "NAPA is very honored to have worked in developing ClassNK-NAPA GREEN with the many shipowners who have provided vessels to carry out pilot testing. We are very proud of the significant fuel savings which have been proven in not only full scale pilot tests, and but also in commercial installations for a variety of customers around the world. NAPA is privileged to be a part of this development that has such a huge economic impact and positive environmental effect."
For more information on
this topic, please contact:
NAPA
Esa Henttinen, Executive Vice President, Sales
tel: +358 50 3269 082
email: esa.henttinen@napa.fi
ClassNK Executive Operations Division
tel: +81-3-5226-2047
email: jeod@classnk.or.jp