November 12, 2012 – Top Society Wins Both Classification Society and Training Awards.
ClassNK (Chairman and President: Noboru Ueda) was recognized for its leadership in the classification and maritime education sectors in Asia when it received the Classification Society Award and the Training Award at Lloyd's List Asia Awards 2012. The annual awards event, which was held by maritime media giant Informa at the Raffles City Convention Centre in Singapore on 8 November 2012, recognize the top companies in the Asian maritime community each year.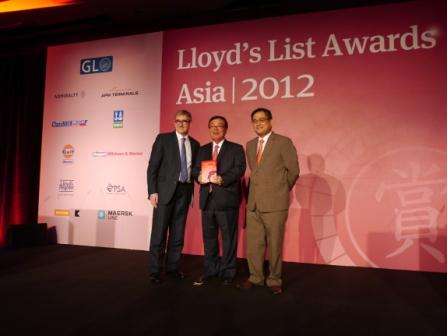 ClassNK wins Lloyd's List Asia Training Award
Tokyo-based ClassNK, which celebrates its 113th anniversary this year, has been the world's largest classification society for more than a decade now, and 2012 marked another banner year for the Society. This May, ClassNK became the first class society in history to have more than 200 million gross tons on its register, and the Society saw its register top 8,000 vessels for the first time in October 2012.
Beyond its market leadership, the independent society has also played an important role in research, investing some 16% of its turnaround in 2012 in R&D to improve ship safety and reduce maritime GHG emissions. Much of this has gone to fund new emission reducing technology such as air lubrication systems, hybrid propulsion systems, among others, but ClassNK has also been a leader in maritime safety, as well. Earlier this year, the Society released new independently developed guidelines to improve the safety of vessels which carry nickel ore, one of the world's most dangerous cargoes, for which it also received the Safety Award at the Lloyd's List Global Awards
In addition to these activities, ClassNK also greatly increased its commitment to maritime training, especially in Asia. In 2011-12, the Society began offering a new program of certification for ECDIS Training courses and maritime academies, granting certification to six of leading maritime academies in the Philippines, and also dramatically expanded its technical seminar and ClassNK Academy programs.
Attendance at ClassNK's Academy training courses has skyrocketed by more than 400% in the past year, and ClassNK provided training and educational services to more than 7000 maritime professionals in Asia in 2011-2012. In line with its non-profit mission and commitment to maritime development, ClassNK provided these educational services were provided at minimal or no cost to all of the attendees.
For more
information please contact:
ClassNK Executive Operations Division
Tel: +81 3-5226-2047
Fax: +81 3-5226-2034
Email: eod@classnk.or.jp