21 October, 2016 (Singapore) – Leading classification society ClassNK picked up the Lloyd's List Intelligence Big Data Award for its condition based monitoring suite ClassNK CMAXS at the 19th Lloyd's List Asia Awards in Singapore last night.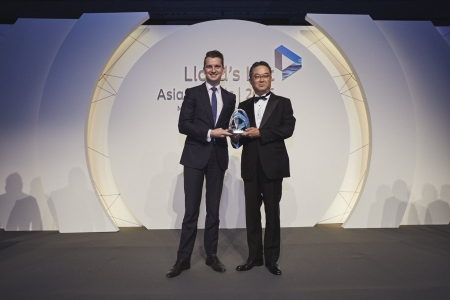 Pictured L R John Purkis Divisional Sales Director Maritime Intelligence Toshio Kurashiki Regional Manager of South Asia and Oceania ClassNK
The awards recognize successes in the Asian maritime industry, setting a benchmark for excellence while rewarding breakthrough ideas and concepts. The Lloyd's List Intelligence Big Data Award recognizes the significant potential that 'big data' has to transform shipping, from timely insights drawn from monitoring and forecasting of events to improved management of performance and risk.
Developed in partnership with key players from across the maritime industry, ClassNK CMAXS is the next generation in condition-based monitoring. ClassNK CMAXS is comprised of five systems, including CMAXS LC-A which detects potential machinery damage early, minimizing downtime and reducing major repairs, and CMAXS e-GICSX, which provides early detection of abnormalities by analyzing big data collected from main engine sensors and navigation data, such as weather and sea conditions. By utilizing big data readily available from onboard mahinery and sensor data, ClassNK CMAXS delivers measurable savings for shipping companies.
ClassNK CMAXS systems are already commercially installed on the vessels of some of the world's leading shipping companies.
For more information on this topic
please contact:
ClassNK Executive Operations Department
Tel: +81-3-5226-2047
E-mail:eod@classnk.or.jp