29 October, 2015 (Singapore) – ClassNK picked up the Innovation Award for its 3D modeling software ClassNK-PEERLESS at the 18th Lloyd's List Asia Awards in Singapore last night.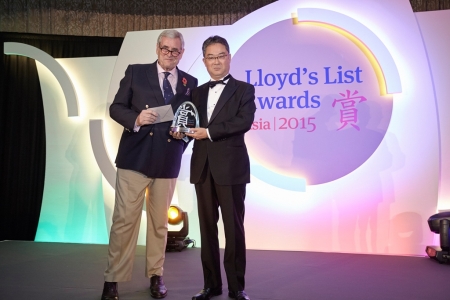 Mr. Chris Jones Director Asia Pacific The Baltic Exchange presenting the award to Mr. Toshio Kurashiki Operating Officer Regional Manager of South Asia and Oceania ClassNK
The awards recognize the Asian maritime industry's successes, setting a benchmark for excellence while rewarding breakthrough ideas and concepts. The Innovation Award recognizes an innovative project or technology which has demonstrated or has verified potential to move shipping forward.
ClassNK-PEERLESS, the comprehensive and powerful design tool for 3D modeling, was developed using outcomes from joint R&D projects with the University of Tokyo, NYK Line, Mitsui O.S.K. Lines, "K" Line, Sasebo Heavy Industries, Sanwa Dock, MTI, S.E.A Systems, Armonicos, and ClassNK Consulting Service.
It provides a solution to the ballast water management (BWM) system retrofit bottleneck following the anticipated entry into force of the BWM Convention. Whereas before it was necessary to enter the engine room and measure every structure manually, ClassNK-PEERLESS streamlines the process and eliminates the need for direct contact by using high-precision 3D laser scanners. Since its launch in 2014, ClassNK-PEERLESS has been used for retrofits on 27 vessels, saving roughly 8,000 man hours, translating into thousands of dollars in reduced labor costs