29 November, 2017 (Copenhagen, Denmark)– New type approved solution allows service providers to easily connect two SAILOR GX antennas in a single network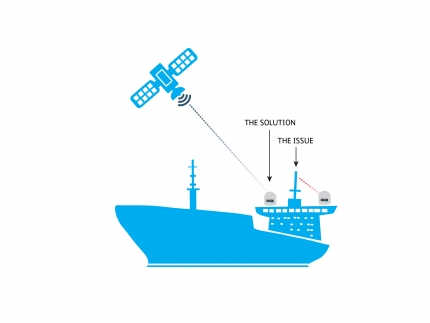 Antenna Diversity Solution The challenge and the solution
Cobham SATCOM has revealed an innovative new solution that can significantly reduce the cost and simplify the installation and management of Inmarsat Global Xpress (GX) networks using multiple Ka-Band antennas. Multiple antennas are frequently used on board to overcome link losses caused by satellite blocking from the ship structure or other deck equipment.
Compatible with Cobham SATCOM's technology-leading SAILOR 100 GX systems, the solution has already received Inmarsat type approval for use with the Inmarsat GX satellite systems. Supported by the unique single cable solution used on SAILOR antennas, Cobham SATCOM has overcome the need to add a 19" rack unit to operate a multiple antenna system, introducing potential installation savings in the region of US $10,000.
The solution helps to enable higher uptime and quality of service for end-users of SAILOR GX antennas connected to Fleet Xpress. It can integrate two SAILOR 100 GX antennas (ADU) on a single SAILOR GX modem unit (GMU) while ensuring seamless switching between them according to availability of a stable link based on orientation of the vessel, and to SAILOR FleetBroadband for operational continuity also when out of Ka-band coverage.
In addition to the cost benefits, Cobham SATCOM's new solution introduces a simplified way to configure and manage antennas for specific blocking zones on board and therefore ensure service availability should the current operational antenna be blocked by the vessel's superstructure. The solution not only reduces installation costs and enhances the end-user experience by ensuring access to operational and entertainment-based IP applications and voice calling, but also helps to reduce overall lifecycle costs dues to simplified servicing and management.
Cobham SATCOM already offers hardware solutions to support its satellite service provider partners when configuring and installing multiple Ku, Ka and C-band SAILOR and Sea Tel VSAT and TVRO antennas.
"Multiple antenna installations can be complex to plan, install, commission and manage. While we have worked closely with the industry to simplify the process for existing satellite networks and frequencies, the same blocking issues persist for Global Xpress. The SAILOR GX Antenna Diversity Solution meets a specific demand in the market as it is a simple and highly cost-effective way for service providers to optimise Fleet Xpress and secure the most reliable service for the end-users," said Jens Ewerling, Director, Maritime Broadband, Cobham SATCOM.
"Inmarsat welcomes innovations from its long-term hardware partners that aim to simplify the installation and management of Fleet Xpress services, especially in the more challenging operational environments, where reliability and higher quality of service are critical," says Ronald Spithout, President, Inmarsat Maritime. "We congratulate Cobham SATCOM on its Antenna Diversity Solution and are delighted on its type approval."
About Cobham SATCOM
Providing dependable communications and internet access anywhere under the most demanding conditions.
Our satellite and radio communication terminals perform in the most challenging and remote environments on land, at sea and in the air.
We design and manufacture these high performance products under the AVIATOR, EXPLORER, SAILOR and Sea Tel brands providing customers with outstanding performance, value and support through our global sales and service network.
About Cobham
The most important thing we build is trust.
Cobham offers an innovative range of technologies and services to solve challenging problems in commercial, defence and security markets, from deep space to the depths of the ocean.
We employ around 11,000 people primarily in the USA, UK, Europe and Australia, and have customers and partners in over 100 countries, with market leading positions in: wireless, audio, video and data communications, including satellite communications; defence electronics; air-to-air refuelling; aviation services; life support and mission equipment.
The challenging and rewarding roles we offer, across a wide range of disciplines are what make Cobham a true global technology and services leader. To view our current roles visit www.cobham.com/careers
About Fleet Xpress
Fleet Xpress delivers a unique, fully integrated dual capability of high speed, high capacity services (Global Xpress) together with high reliability safety-level services (FleetBroadband) in a single commercial package which is available anywhere in the world. Fleet Xpress is further enriched by its unique service enablement platform designed to provide ship owners, managers and operators with access to a new generation of value-added maritime applications, services and solutions. Inmarsat's maritime channel Partners include all the leading maritime communications resellers, providing global reach, customer intimacy and value-added capabilities in support of Fleet Xpress, and a well-managed pathway for Inmarsat's current FleetBroadband customers to migrate over time up to Fleet Xpress. In 2017 Fleet Xpress won the Smart4Sea Excellent Award for technological excellence in smart shipping and the Seatrade Award 2017 for Digital Technology, recognising technical innovation in the maritime industry.
About Inmarsat
Inmarsat plc is the leading provider of global mobile satellite communications services. Since 1979, Inmarsat has been providing reliable voice and high-speed data communications to governments, enterprises and other organisations, with a range of services that can be used on land, at sea or in the air. Inmarsat operates in more than 60 locations around the world, with a presence in the major ports and centres of commerce on every continent. Inmarsat is listed on the London Stock Exchange (ISAT.L).
The Inmarsat press release newsfeed and corporate updates are on @InmarsatGlobal.