16 January 2018 (Copenhagen, Denmark) – Cobham SATCOM GX100 and GX60 terminals have been approved by TELEC, a telecommunications certification and testing body in Japan.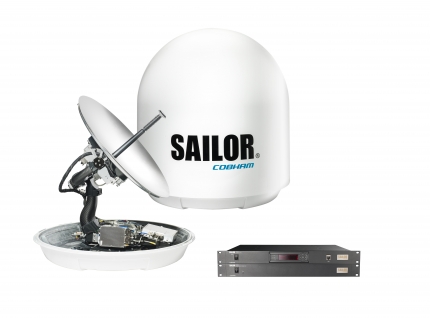 SAILOR 60 GX
Cobham SATCOM has secured approval in Japan for the GX100 and GX60 terminals it has designed for Fleet Xpress, after radio equipment certification and testing body TELEC confirmed their compliance with standards laid down in Japan's Telecommunication Business Act.
The certification allows the Cobham GX100 and GX60 terminals that enable Inmarsat's revolutionary Fleet Xpress high-speed maritime broadband service to be used without any further need of verification of connectivity by the telecommunications carrier. It means that Fleet Xpress can be fully adopted by shipping companies in Japan without certified terminal hardware from Cobham SATCOM requiring separate testing.
"As owners reach to secure the benefits of data-driven operations, this validation will give them assurance that the improved connectivity, reduced opex and enhanced data speeds available through Fleet Xpress can be delivered to Cobham SATCOM's maritime quality standards," said Casper Jensen, Senior Vice President at Cobham SATCOM. "Terminals developed for reliability, ease of installation and integration with high speed data transmission that bring internet access at sea are the gateway to the enhanced vessel efficiency and crew welfare promised by Fleet Xpress."
About Cobham SATCOM
Providing dependable communications and internet access anywhere under the most demanding conditions.
Our satellite and radio communication terminals perform in the most challenging and remote environments on land, at sea and in the air.
We design and manufacture these high-performance products under the AVIATOR, EXPLORER, SAILOR and Sea Tel brands providing customers with outstanding performance, value and support through our global sales and service network.
About Cobham
The most important thing we build is trust.
Cobham offers an innovative range of technologies and services to solve challenging problems in commercial, defence and security markets, from deep space to the depths of the ocean.
We employ around 11,000 people primarily in the USA, UK, Europe and Australia, and have customers and partners in over 100 countries, with market leading positions in: wireless, audio, video and data communications, including satellite communications; defence electronics; air-to-air refuelling; aviation services; life support and mission equipment.
The challenging and rewarding roles we offer, across a wide range of disciplines are what make Cobham a true global technology and services leader. To view our current roles visit www.cobham.com/careers
For more information
please contact:
Cobham SATCOM
Daniel Breum
Director, Marketing & Communications
+45 3955 8829
daniel.breum@cobham.com
PR 01 18 100 EH