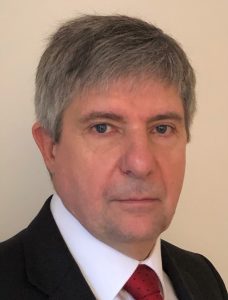 08 April 2019 – UK-based Coldharbour Marine, the manufacturer of an in-tank ballast water treatment systems (BWTS) based on unique inert gas technology, has announced the appointment of Don Stephen as Chief Executive Officer. With over 30 years blue chip industry experience, Don's career spans technical and leadership roles at De Nora Water Technology, Severn Trent Services, GE and Alstom both in the UK and internationally. Don will be based at the head office in Linby, England.
Don Stephen commented on his appointment "I am looking forward to working with the Coldharbour team to lead the business in increasing our market presence, serving our global Customers and obtaining USCG and new IMO G8 certification."
The Chairman of Coldharbour, Graham Cole CBE, said "Don is a highly motivated, dedicated, results oriented professional with a unique set of competencies. His vision, strategic thinking and communication abilities at all levels will drive the company's growth in the short, medium and long term."
About Coldharbour Marine Ltd
Coldharbour, an engineering business with nearly four decades of inert gas and water treatment experience, has in recent years developed Sea Guardian™ – a clean and compact Inert Gas Generator (IGG) technology for use on LNG carriers and tankers. Sea Guardian™ IGGs incorporate a range of patented unique features that ensure stable, reliable and particularly low maintenance operation and they are also integral to Coldharbour's award-winning GLD™ BWTS.
Key features of the GLD™ BWTS are that treatment takes place in-tank and in-voyage and without the need for any form of in-line filtration. This approach ensures no disruption to terminal operations during ballasting and no risk of re-growth of marine organisms on long ballast voyages, as treatment takes place towards the end of such voyages. With the GLD™ BWTS, large vessels are now guaranteed to arrive at terminals ready to load or off-load ballast without the risk of any delays caused by BWTS operational difficulties and/or breakdowns.
The system is fully type-approved by IMO, with testing and certification by the UK Maritime and Coastguard Agency and Lloyd's Register. It also has USCG AMS acceptance and is currently undergoing the full USCG type approval process.
For more information, please contact:
Paul Hubbard
Account Manager
JLA Media
paul.hubbard@j-l-a.com
+44 208 405 6343
or