18 September 2018 – Cobham SATCOM has secured an order to supply SAILOR 100 GX antenna systems for 50 COSCO Shipping vessels, in a landmark deal to enhance onboard connectivity that strongly aligns with the Chinese state-owned shipping company's recently announced digital transformation roadmap.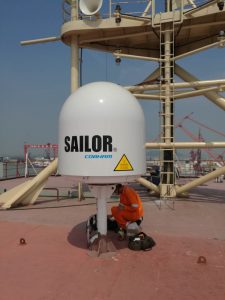 The SAILOR 100 GX antenna systems will provide vessels with a high-reliability, high-throughput link to the Inmarsat Global Xpress (GX) Ka-band satellite network and access to the value-added features of the satellite operator's Fleet Xpress (FX) service. Enabling a range of real-time monitoring of ship systems, and data and video streaming applications, SAILOR 100 GX antenna systems will provide the critical connectivity to support COSCO Shipping's unfolding Smart Shipping programme.
Cobham SATCOM General Manager, China, Cheng-Yu Tang says: "COSCO Shipping has experimented with real-time monitoring on its vessels using Inmarsat FleetBroadband but as the systems grow in complexity, the demand for data-transfer has developed quickly. Deploying SAILOR 100 GX and switching to Inmarsat's FX service offers a proven pathway into shipping's fast-emerging digital economy."
In February, COSCO Shipping announced plans for a new technology and information platform, aimed at optimising the performance of existing business units by exploiting computational intelligence and Big Data analytics. Chairman of COSCO Shipping Captain Xu Lirong has also expressed far-reaching ambitions to build a digital ecosystem covering the entire manufacturing and supply chain, working with partners including Huawei, IBM and Deloitte.
"The combination of Inmarsat FX and the SAILOR 100 GX will give engineers and software developers involved in COSCO's digital venture ample room to explore even more sophisticated – and data hungry – solutions," Cheng-Yu Tang observes.
Cobham SATCOM expects that delivery and commissioning for all 50 installations to be complete before the end of 2018. Ease of deployment was an important aspect in the development of the SAILOR 100 GX antenna, in anticipation of large fleet roll-outs. Apart from its lightweight design and compact footprint, it uses a single cable for carrying RF signal, power and data, while its automated azimuth and cable calibration features reduce installation times further.
About Cobham SATCOM
Providing dependable communications and internet access anywhere under the most demanding conditions.
Our satellite and radio communication terminals perform in the most challenging and remote environments on land, at sea and in the air.
We design and manufacture these high performance products under the AVIATOR, EXPLORER, SAILOR and Sea Tel brands providing customers with outstanding performance, value and support through our global sales and service network.
About Cobham
Cobham offers an innovative range of technologies and services to solve challenging problems in commercial, defence and security markets, from deep space to the depths of the ocean.
We employ around 10,000 people primarily in the USA, UK, Europe and Australia, and have customers and partners in over 100 countries, with market leading positions in: wireless, audio, video and data communications, including satellite communications; defence electronics; air-to-air refuelling; aviation services; life support and mission equipment.
The challenging and rewarding roles we offer, across a wide range of disciplines, are what make Cobhamatrue global technology and services leader. To view our current roles, visit www.cobham.com/careers.
For more information please contact:
Cobham SATCOM
Henrietta Jessen
Head of Product Marketing
Tel: +45 3955 8924
Email: henrietta.jessen@cobham.com
www.cobham.com/satcom
Twitter.com/cobham_plc