30 August 2018 – With onshore infrastructure to support polar operations falling behind a substantial influx of ships, manufacturers need to take responsibility as well as opportunities when it comes to meeting demand for 'winterized' shipboard equipment, according to Vestdavit.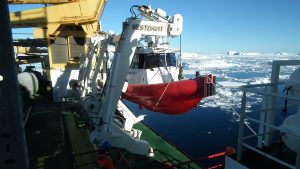 "These are certainly encouraging times for those supplying equipment for the harshest conditions, but manufacturers must ensure that the tools are really up to the job," says Vestdavit Managing Director, Rolf Andreas Wigand. "The land-based polar service infrastructure is limited, making it critical that shipboard equipment truly offers the reliability and redundancy set by the Polar Code. This is essential for davits, whose operations involve direct interaction with the most unforgiving conditions."
A surge in publicly-funded polar scientific ships will enter service 2018-2021, joining British, Chilean, Chinese, Norwegian and Swedish polar survey and research bodies. Elsewhere, US Coast Guard plans for three new polar icebreakers are also progressing, while authorities in Canada and New Zealand recently purchased secondhand icebreakers to meet medium term needs.
Meanwhile, over the 2018-2021 period, 22 new expedition ships are due in service. Commercial shipping, too, is firmly in the mix, especially the Northern Sea Route connecting Europe and Asia.
"In all cases, the davits that launch and recover crew boats, tenders and other craft must be fully operable at extreme temperatures, where the severity of icing may not be immediately apparent," cautions Wigand. "Materials grades must be optimised for low temperatures, while the appropriate steps must be taken to protect, insulate, ventilate and heat equipment to ensure it works on demand."
Davits from Vestdavit include shock absorbers and anti-pendulum technology to enhance both the safety and efficiency of operations, Wigand adds, putting the supplier far ahead of SOLAS requirements. In addition, Vestdavit equipment performs beyond NORSOK regulations offshore Norway, which require a dual winch brake system, system redundancy, reinforced structure and hydraulic power packs/electrical cabinets built-in.
"For both safety and crew welfare reasons, we only deliver systems with our unique wave-compensation solution," says Wigand. "Constant tension in the wire avoids slack caused by the wave uplift of a crew boat as it is prepared for hoisting; slack wires can lead to jolts and falls as the wave subsides." Self-tensioning allows the boat to rise and fall with the waves, so that the operator can judge the best time to hoist: this widens the davit's safe operational window in harsh conditions.
Wigand says that, already, Vestdavit has been securing orders based on the new generation of research, expedition and icebreaking tonnage. Recent deliveries include several HN-9000 dual point workboat davits for National Oceanic and Atmospheric Administration (NOAA) research vessels and nine PLA-2000 all-aluminum units for US Coast Guard Bay-class icebreaking tugs.
Last year, Vestadvit delivered two compact TSB-2500 rescue boat davits for installation in the aft section of two 100-passenger vessel 'National Geographic' branded cruise ships for Lindblad Expeditions Holdings Inc. "In this case, as well as being fully winterized for polar conditions, the davits supplied use environmentally-friendly hydraulic oils to ensure that any leakage will not be harmful to this most sensitive of environments," adds Wigand.
For more information on this topic please contact:
Rolf Andreas Wigand
Managing Director
Vestdavit AS
+47 99 46 48 62
rolf.andreas.wigand@vestdavit.no
About Vestdavit:
Vestdavit designs, supplies and supports tailor-made solutions for launching and recovering boats in difficult conditions at sea. Its range of boat handling systems and davits are the first choice of navies, coastguards, seismic survey operators, pilot authorities and offshore operators who need to be able to operate small boats safely from larger vessels. Since 1975 Bergen-based Vestdavit has supplied over 1,900 davits and side and stern launch systems. They have proven themselves for almost 40 years of use in the North Sea and other harsh environments around the world. Self-tensioning and shock absorbing systems ensure crew safety and widen the operational window for the users. Vestdavit's key focus is on operational effectiveness, safety and the reliability of its equipment. www.vestdavit.no