28 August 2018 – Dubai is first Arab city to join the ranks of Singapore, Hong Kong, London and Shanghai.
Amer Ali: "Dubai has once again proved to be one of the world's leading shipping centers with continued support from our leadership"
Key industry index ranks Dubai as top 5 among the world's shipping centers
More than 5,500 companies work in maritime sector & engage in 13,000 activities
Sector supports Dubai's economy by more than 76,000 jobs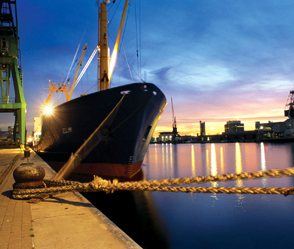 Dubai has reached a new milestone in its strategy for leadership in the international maritime sector after being selected as one of the world's top five hubs in the International Shipping Centre Development Index (ISCD). Backed by legal and legislative excellence, Dubai is known for its advanced infrastructure, world-class maritime and logistics capabilities, a competitive environment conducive to trade, business and investment, and innovative free zones that match the world's best. According to a recent report by the London-based Baltic Exchange and the Xinhua News Agency, Dubai has secured fifth position and overtaken Hamburg, which fell from fourth to seventh place. The ranking confirms anew the emirate's reputation as one of the leading maritime shipping and logistics centers in the world.
Amer Ali, Executive Director of Dubai Maritime City Authority (DMCA), was not surprised that Dubai achieved the top five ranking as the maritime world gathers SMM 2018, the Hamburg event that brings together shipping's great and good in unrivalled numbers. Ali noted that, last year, the emirate became the first Arab city to be named among the world's top five competitive and attractive maritime clusters in the Menon Business Economics Group maritime industry report, widely acknowledged as an industry benchmark. The emirate is on track to make unprecedented achievements under the relentless support of H. H. Sheikh Mohammed bin Rashid Al Maktoum, Vice President and Prime Minister of the UAE and Ruler of Dubai, who envisioned a safe, integrated, and sustainable maritime sector in support of the UAE's economic diversification policy in preparation for a post-oil future.
Ali drew attention to DMCA's delight at the new achievement, which said was a testament to the success of dedicated efforts to enhance the competitiveness of the local maritime sector and consolidate Dubai's leadership as a major global maritime player. Fruitful partnership had been forged between the public and private sectors to enhance the confidence of regional and international investors in the competitiveness of the local maritime sector and promote its components based on the pillars of research and development, innovation, and smart transformation, he said. "The components include shipping and ports, engineering and training, maritime support services and ports, and the operation and maintenance of giant maritime vessels."
Ali added that Dubai's entry into the ISCD's top five brought a major responsibility to further develop the legislative, regulatory and logistics infrastructure to the highest international standards of operational efficiency, maritime safety, and safe navigation in a bid to attract foreign direct investments. This is in line with the objectives of the Dubai Plan 2021 to make the emirate one of the most important business centers in the world. "We are working hard to create a vibrant maritime environment to attract industry leaders and to promote Dubai's status as a global shipping center supported by a series of leading quality initiatives, including the Dubai Maritime Virtual Cluster (DMVC), Dubai Maritime Cluster Office (DMCO), and Maritime Dubai," said Ali. "These initiatives will help pave the way for establishing Dubai and the UAE as an influential force within the global maritime economy."
Dubai was selected for the first time in the top five, with Singapore leading the way ahead of Hong Kong and London, which placed second and third, respectively. Shanghai ranked fourth in terms of advanced shipping services and fast-growing logistical solutions, while Rotterdam improved from eighth to sixth, having previously occupied the top five positions between 2014 and 2016. Hamburg failed to make it to the top five, dropping from fourth to seventh.
The International Shipping Centre Development Index used a methodology assessing the sector's competitiveness, ability to attract maritime businesses, development of efforts in relation to creativity and innovation, and key role in advancing growth of the global shipping sector.
About Dubai Maritime City Authority:
Founded in 2007, Dubai Maritime City Authority (DMCA) has brought about a radical change in the local maritime sector through an extensive range of industry initiatives and regulations which support its ambitious approach to creating a safe investment environment for industry leaders from all over the world, while reaffirming Dubai's position as a first-class international maritime hub. Established to monitor, develop and promote maritime activities, DMCA provides a platform of excellence and quality as it develops world-class regulations and guidelines to raise the bar on the maritime industry and boost its infrastructure, operations and logistics services while offering investment opportunities to boost Dubai's competitiveness at the regional and international levels.
DMCA aims to build effective and strategic partnerships with relevant government agencies, private businesses and stakeholders in line with its vision to create a safe and vibrant maritime sector and therefore drive economic sustainability and growth in the emirate. The Authority is keen on expanding its scope of work and laying down effective policies under the highest standards of maritime safety and best environmental practices, in adherence with the local and international laws to develop a safe maritime environment for maritime operations and businesses.
For press enquiries please contact:
Paul Hubbard
JLA Media
E: paul.hubbard@j-l-a.com
T: +44 (0) 20 8405 6343