High frequency rail link delivers strategic answer to persistent requests for more multimodal capacity between Germany, Sweden and Finland .
14 October 2022 – Samskip has added over 10% capacity to its multimodal connections between Germany and Scandinavia as a result of launching three-times weekly block train services connecting Duisburg and Rostock together with Hector Rail.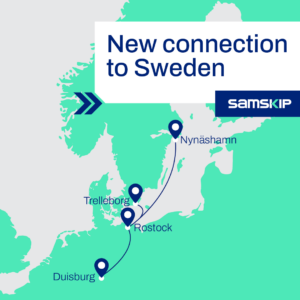 The all-electric train service links the Duisburg Hohenbudberg terminal and the Rostock Trimodal terminal for coordination with the port's ro-ro ferry services. It creates a significant additional new routing option to connect Germany's Ruhr area and the south-east of the Netherlands with Sweden's key Stockholm/Gävle/Örebro/Jönköping region, Finland and other Baltic markets.
Departing from Duisburg on Monday, Wednesday and Friday, the 700m length trains arrive in Rostock on Tuesday, Thursday and Saturday to coincide with Hansa Destination ferry connections to Nynäshamn (south of Stockholm). Entering the market in August 2021, Hansa has developed substantial freight volumes into and out of the Swedish midlands, with the regular Nynäshamn call periodically augmented by stopovers at Visby.
The Duisburg-Rostock rail link also means Samskip can offer additional service options direct into southern Sweden and Finland by coordinating with separate daily ferry departures to Trelleborg, Kotka, Hanka and Rauma.
  Samskip already offers an extensive network of containerised rail services connecting Duisburg with destinations in Sweden, operating its own block trains into Katrineholm, Falköping and Nässjö 14 times a week. "Hector Rail is delighted to be able to expand its excellent long-term cooperation with Samskip by establishing a two-way intermodal offer between the Ruhr area and Scandinavia," commented Stig Kyster-Hansen Managing Director of Hector Rail GmbH.   Shortsea operations out of Rostock represent a strategic addition to transport options for all types of multimodal freight customers, according to Gert-Jan Meijer, Head of Trade, Sweden, Samskip. In addition to offering capacity for ISO containers, Mega trailers and P400 trailers, wagons deployed accommodate non-cranable trailers, opening the new route to a wide range of third party and shippers' own equipment.
"There has been a clear need to increase capacity between Germany and Scandinavia based on growing trade volumes and new requests, but high diesel prices and continuing driver shortages are also steering more cargo away from the road," said Meijer. "Offering an additional high-frequency service option consolidates the competitive edge that multimodal  has over road haulage in terms of reliability in the supply chain."  
  Thomas Vitte, Commercial Manager of Hector Rail GmbH, added: "Through this broader service offer it will be possible to attract more cargo to rail with an even more competitive and efficient product, thereby enhancing sustainable transport solutions between Germany and Scandinavia." The capacity boost comes during a period of opportunity for multimodal in Europe, whose lower emissions align with sustainability goals set by corporates. EU Mobility Package measures to improve haulier conditions are also driving road freight out of the market. High frequency in rail services strengthens the case for sustainable transport, Meijer commented. "Our larger customers want to do more using lower carbon options, new customers are knocking on the door and it's fair to say that there is a general mood in Germany that now is the time to switch away from road." The combination of all-electric rail traction, short sea economies of scale, short last-mile over the road operations and flexibility on unitised options "epitomises what Samskip is striving to deliver in sustainable connections for the European logistics market", said Meijer. "We want to thank Hector Rail, Hansa Destinations and the Port of Rostock and to celebrate this joint effort in 'Making Green Logistics easy'."
Note to editors:
Samskip offers pan-European, environmentally responsible combined transport services via shortsea, road, rail and inland waterway routes. We are committed to cost-effectiveness, operational excellence and best practice in sustainable transport.   High frequency services connect destinations across Europe, the Baltic States, Iceland and Faroes Island, and Russia, both door-to-door (including collection) and quay-to-quay, transported using a wide range of owned vessels, containers, trucks and trailers. To match equipment to cargoes shipped, options include a full range of ISO containers and reefers, including 33-pallet capacity 45ft units.   Samskip' Global Forwarding division offers global expertise in transporting perishables. With offices throughout Europe, Asia and the Americas connected by state-of-the-art operational software, and backed by a group transporting 800,000 containers every year, we bring fresh food to your markets worldwide.   In all cases shippers can make real choices based on frequency of service, transit times, freight rates and sustainability.