ABB will equip entire AIDA cruise fleet with SEEMP-compliant energy monitoring and management system.
14 April, 2015 (Zurich, Switzerland) – ABB, the leading power and automation technology group, will deliver energy monitoring and management system EMMA to German-based cruise operator AIDA's entire fleet consisting of 10 vessels.
The EMMA advisory suite, already installed on six of AIDA's cruise ships, is a decision-support tool to minimize the overall energy costs for individual vessels and entire fleets.
AIDA's installation of the SEEMP-compliant (ship energy efficiency management plan) EMMA will cover seven top-level categories: propulsion power, propulsion efficiency, vessel trim, hotel and auxiliary power, air condition power per person, specific fuel oil consumption of the main diesel generators and total fuel consumption. By reducing fuel consumption, ABB will also help AIDA to reduce the vessel's environmental emissions.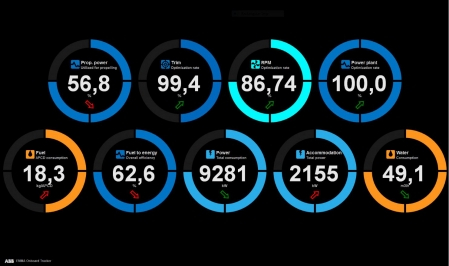 ABB EMMA Onboard Tracker – Main View
All data generated onboard is transferred to a cloud-based application for vessel benchmarking. This can provide management onshore with full visibility of energy consumption across the entire fleet. SEEMP is an operational measure that establishes a mechanism to improve the energy efficiency of a ship in a cost-effective manner. It has been mandatory on all vessels since 2013. The installation of EMMA will support AIDA in the important SEEMP process. In addition to this, the extensive ABB analytical services, including simulations, will help AIDA on future business case analysis.
"AIDA is recognized as one of the most environmentally friendly cruise operators and the company sets high demands for the solutions it deploys onboard the vessels. We are pleased that AIDA selected ABB's EMMA energy monitoring and management system to further improve the environmental footprint of their fleet", says Heikki Soljama, Managing Director for ABB's marine and ports business.
"At AIDA we've realized that in order to achieve maximum efficiency, we must approach energy management onboard clinically and scientifically. This is why we installed ABB's EMMA. The biggest benefit of having such an advanced energy management system onboard is that mathematically analyzed key performance indicators are at your fingertips, not only raw data," says Jens Lassen, Senior Vice President Marine Operations at AIDA Cruises.
About AIDA Cruises:
AIDA Cruises is the leader and most recognized cruise brand dedicated to the German cruise market and renowned for its youthful style and casual service attracting a mix of active and relaxation-seeking vacationers. AIDA Cruises operates and markets one of the world's most state-of-the-art and environmentally friendly fleets, currently comprising 10 cruise ships. By 2016, the AIDA fleet will expand to 12 ships.
About ABB
ABB (www.abb.com) is a leader in power and automation technologies that enable utility, industry, and transport and infrastructure customers to improve their performance while lowering environmental impact. The ABB Group of companies operates in roughly 100 countries and employs about 140,000 people.