23 September, 2016 (Esbjerg, Denmark) – In offshore wind safety, VIKING is proving a hard act to follow, with a complete portfolio of cutting-edge Personal Protective Equipment (PPE), all designed with the industry in mind.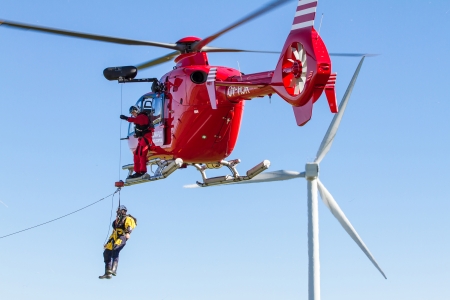 VIKING Offshore Wind Helicopter
Marine safety equipment manufacturer and servicing provider VIKING Life-Saving Equipment's expanded portfolio of PPE has made choosing safety equipment and servicing much easier for offshore wind developers, operators and contractors. The company's complete program of quality gear covers work and safety wear for offshore technicians as well as transportation gear suited for helicopter and boat transfer – or both – as the VIKING range also covers single-product solutions catering to workers that e.g. fly out to a wind farm and return by sea.
Multi-purpose suits with
multiple approvals
"No matter if your place of work is on board a supply vessel, on top of the nacelle housing, at the end of a rope inspecting the turbine foundation or at the helm of the helicopter flying to the wind farm, VIKING has the gear you need to stay safe and efficient", says VIKING's Global Product Manager for PPE, Søren Hansen. "And when you're transferring between all the different types of offshore wind work locations, we've got you covered, too."
Top of the transportation range is the VIKING PS4002 dual-purpose, multiple-approval (ETSO and SOLAS) helicopter/boat transportation suit. Fast and easy to put on and take off, it allows the wearer to move more freely and offers increased protection against hypothermia in case of an emergency. With a dual-purpose, dual-approved suit, only one suit is required – regardless of means of offshore transportation. In fact, VIKING is one of only a few suppliers in the world to offer a fully ETSO-approved system comprising an offshore transportation suit and lifejacket.
The extensive range of transportation suits are complemented by the dedicated lightweight SOLAS/ISO PS4115 Wind Farm Work Suit and a range of state-of-the-art work and immersion suits for constant wear, including the popular PS4170 and the brand new 4190 line in waterproof GORE-TEX® Pazifik™ for high breathability and better comfort.
When it comes to lifejackets, VIKING keeps the bar high, with both SOLAS and ETSO approved products available. Most of these products have class-leading features such as fast-deployment spray hoods and optional emergency re-breathing systems.
Streamlining
safety compliance
For offshore wind, of course, it's not just about the products themselves. A VIKING Offshore Safety Agreement is a uniquely customizable servicing concept that incorporates safety products, single-source management and global financing in a variety of fixed price structures. And the company has built what it calls a 'Ring of Safety' around the North Sea, providing efficient aviation suit and lifejacket servicing via its own fully ETSO authorized (EASA Part 145) stations at Bergen, Aberdeen, Den Helder, Esbjerg, and Schwei West.
No passing
the buck
Unlike other prominent safety brands, VIKING doesn't leave the production of critical life-saving equipment in the hands of third party manufacturers, preferring to keep strict control over materials and workmanship in the safety of its own factories. Having everything under one roof also gives the company a unique ability to deliver complete solutions including, for example, compatibility testing.
"One of the reasons why our PPE is so popular is the fact that we manufacture and service it all ourselves," says Søren Hansen. "So we literally know the gear inside and out, and can take full responsibility for product design and quality. There's no passing the buck here."
Meet VIKING at WindEnergy, Hamburg, 27-30th September 2016 on Stand B1.EG.510
About
VIKING
VIKING Life-Saving Equipment A/S is a global market leader in maritime and offshore safety, providing and servicing safety and fire-fighting equipment for passenger and cargo ships, offshore installations, fishing vessels, the navy, fire departments and leisure yachts.
VIKING is a privately held corporation founded in 1960 with group headquarters in Esbjerg, Denmark. Products are manufactured in Denmark, Norway, Bulgaria and Thailand. VIKING offers a broad range of off-the-shelf and tailored safety solutions and systems certified in accordance with the latest requirements of the IMO, SOLAS, EU and USCG.
The product portfolio includes chute and slide-based marine and offshore evacuation and crew transfer systems, liferafts, lifejackets, immersion suits, fire suits, work suits, pilot suits, helicopter transportation suits, MOB boats, davits, pilot ladders, signs, and other lifesaving appliances. The VIKING Agreements offer uniquely customizable concepts that incorporate safety products, global servicing, single-source management, and financing in a variety of fixed price structures.
With 2,000 employees worldwide, the unique VIKING network of branch offices, agents, 270 certified servicing stations and worldwide stock points makes VIKING a truly global provider at convenient locations in all significant markets.
For
press inquiries:
Thomas Hestehave, Global Marketing Communications Executive, phone: + 45 7611 8454,
email: THH@VIKING-life.com