23 May, 2016 – Caterpillar's Marine Solution Center unveils breakthrough hybrid thruster concept offering dramatic savings in cost of ownership for offshore operators.
Caterpillar Marine is pleased to announce that engineering specialists at its new Marine Solutions Center are this month overseeing delivery of the first Cat® Marine Hybrid Thruster system. The first system is being delivered to an undisclosed ship yard in Singapore and will be commissioned mid this year.
The new propulsion set-up outperforms diesel mechanical systems in all partial load conditions, and offers improved fuel economy and substantial through-life savings for a variety of offshore support vessels (OSV). For vessels spending a high amount of time in standby or DP service, the annual fuel savings can be as high as 35% – calculated across the entire operating profile of the vessel.
The performance achievements are the result of Caterpillar's holistic approach to optimizing vessel operations and reduced total cost of ownership for owners. Typically, the Cat Marine Hybrid Thruster system could be used to downsize a vessel's main engine so that engine load is optimized, while also allowing the vessel to switch to diesel electric mode for low DP operations or in standby.
For example, a standard 7000 hp standby support vessel featuring conventional powering would require 2x MaK™ 8 M25 C main engines at 2666kW @ 750rpm and a pair of cat C18 gensets. With the new Cat hybrid thruster system the same vessel could instead use smaller 6 M 25 C main engines at 2000kW @ 750, and two booster motors mounted on the back of the Cat MTA 730 CP azimuth thrusters powered by twin Cat C32 generator sets. The booster motors and drives are controlled directly from the Caterpillar MPC 800A control system which also performs all mode selections, interfaces with the vessel's PMS and provides a single point interface for the operator.
Caterpillar Marine believes that the Cat Marine Hybrid Thruster represents a significant new market contender, either for retrofit or installation at newbuild stage. In transit operations and in diesel-mechanical mode, the smaller engines run at higher loads, consuming less fuel. In low-speed transit, either one or two gensets can power the main azimuth thruster in diesel-electric mode giving typical fuel savings of 10-15% at speeds in the 7-9 knots range, depending on hull profile. However, the biggest savings are made during standby and DP operations where the vessel would operate in diesel electric mode with the main azimuth propellers running in the most efficient variable speed mode.
Commenting on the development, Jonas Granath, Manager Electrical Design, Caterpillar Marine Solution Center said: "The efficiency gains are remarkable. Of course, they differ from ship to ship depending on the ship service and OSVs come in a wide range of types and sizes. Typically, though, OSVs with DP capability spend a considerable amount of time in standby or in various levels of DP. With this new system, they will be able to use the diesel electric mode and run off the smaller gensets with the propellers operating economically at a very low rpm. It is in exactly these conditions where our new Marine Hybrid Thruster system offers the greatest benefits."
"We see significant market potential for the new set-up on board both existing and new ships to meet the increasing need for operational efficiency and reduced operating costs," Jonas Nyberg, Regional Sales Manager South East Asia added.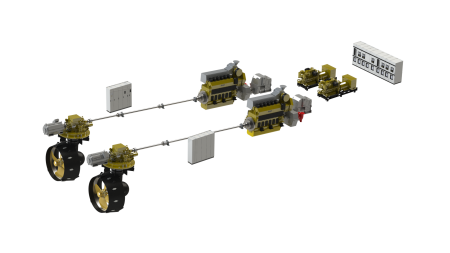 Cat® Marine Hybrid Thruster system
About
Caterpillar Marine
Caterpillar Marine, with headquarters in Hamburg, Germany, groups all the marketing and service activities for Cat and MaK marine diesel, dual fuel and gas power and propulsion systems within Caterpillar Inc. The organization provides premier power solutions in the medium- and high-speed segments with outputs from 93 to 16,800 kW in main propulsion and 10 to 16,100 kWe in marine generator sets as well as a comprehensive portfolio of propulsion solutions. The sales and service network includes more than 2,100 dealer locations world-wide dedicated to support customers in ocean-going, commercial marine and pleasure craft wherever they are.
More information is available at:www.cat.com/marine
About
Caterpillar:
For 90 years, Caterpillar Inc. has been making sustainable progress possible and driving positive change on every continent. Customers turn to Caterpillar to help them develop infrastructure, energy and natural resource assets. With 2015 sales and revenues of $47.011 billion, Caterpillar is the world's leading manufacturer of construction and mining equipment, diesel and natural gas engines, industrial gas turbines and diesel-electric locomotives. The company principally operates through its three product segments – Construction Industries, Resource Industries and Energy & Transportation – and also provides financing and related services through its Financial Products segment. For more information, visit caterpillar.com. To connect with us on social media, visit caterpillar.com/social-media.
CAT, CATERPILLAR, their respective logos, "Caterpillar Yellow" and the "Power Edge" trade dress, as well as corporate and product identity used herein, are trademarks of Caterpillar and may not be used without permission.
©2016 Caterpillar
All Rights Reserved