03 October 2018 – New maritime safety service that paves the way for the modernisation of the Global Maritime Distress and Safety System (GMDSS) wins prestigious industry accolade.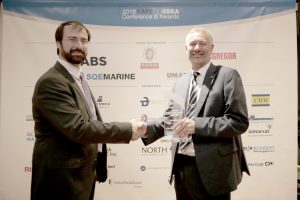 Inmarsat's new Fleet Safety maritime data service has been named winner in the Technology category for the highly regarded Safety4Sea Awards, 2018. The award win, by public vote after shortlisting from a judging panel, acknowledged Fleet safety as 'a significant technological breakthrough' that will continue to improve the safety of mariners and vessels worldwide.
Fleet Safety covers the leisure, fishing and coastal markets, in addition to deep-sea merchant shipping, and has been developed for any vessel equipped with Inmarsat's FleetBroadband, Fleet One or Inmarsat C connectivity. Two key features of Fleet Safety are SafetyNet II and RescueNet which are specifically designed to enhance the communications available to seafarers in distress and facilitate swifter action by organisations planning and executing search and rescue operations.
Both features have already been used to save lives since launch in 2017 including playing an instrumental role in the co-ordination of the rescue of a fishing vessel crew of six after they spent three days adrift 200 nautical miles off Tonga.
Inmarsat has also introduced a new Maritime Safety Terminal for ships that supports Fleet Safety Voice Distress Calling on a priority basis, meaning that those pressing the distress button are connected to the Maritime Rescue Coordination Centres (MRCCs) immediately.   As part of GMDSS, Fleet Safety is free at the point of use.
"The Safety4Sea Awards acknowledge safety excellence and sustainable shipping," said Peter Broadhurst, Inmarsat Senior Vice President Safety and Security. "Winning in the technology category is fitting recognition of all the hard work that took place behind the scenes to make Fleet Safety a reality. It also celebrates our continuing commitment to real advances in distress communication and accident prevention at sea – the mission we committed ourselves to at the International Maritime Organization (IMO) on our foundation four decades ago."
Notes to editors
In May, the International Maritime Organization's (IMO) Maritime Safety Committee (MSC) formally approved Inmarsat's Fleet Safety solution as a new service to support the Global Maritime Distress & Safety System (GMDSS).
Ship owners and operators currently deploying FleetBroadband or Fleet One will be able to access GMDSS approved safety services, as well as a host of new innovative safety features only available via the Inmarsat Fleet Safety system, by the addition of a small Maritime Safety Terminal (MST). Inmarsat intends to create a new generation of stand-alone terminals that will both incorporate FleetBroadband and MST into a single device and deliver higher speeds, in excess of 1Mbps.
Fleet Safety builds on Inmarsat's 40-years of maritime safety heritage, which has helped save the lives of thousands of seafarers.  160,000 vessels worldwide already use the Inmarsat-C stand-alone safety service, which is provided at no charge by Inmarsat.
The new service will be delivered over the existing Inmarsat-4 constellation and the new Inmarsat-6 satellites; the first of which is due for launch in 2020.
Fleet Safety includes a new web-based version of SafetyNet, SafetyNet II, the international system for broadcasting and automatic reception of Maritime Safety Information (MSI) and Search and Rescue (SAR) communications.
For Maritime Rescue Coordination Centres (MRCC), Inmarsat has developed RescueNet, a free web-based service linking current and future Inmarsat Safety Services, as well as increasing MRCC capabilities with enhanced, real-time coordination during a search and rescue operation.
About Inmarsat
Inmarsat is the leading provider of global mobile satellite communications services. Since 1979, Inmarsat has been providing reliable voice and high-speed data communications to governments, enterprises and other organisations, with a range of services that can be used on land, at sea or in the air. Inmarsat operates around the world, with a presence in the major ports and centres of commerce on every continent. Inmarsat is listed on the London Stock Exchange (ISAT.L).
The Inmarsat press release newsfeed and corporate updates are on @InmarsatGlobal.
For further information:
Jonathan Sinnatt
Director of Corporate Communications
Inmarsat Corporate
+44 (0)20 7728 1492
press@inmarsat.com
Mark Warner
Head of Marketing
Inmarsat Maritime
+44 (0)20 7728 1654
mark.warner@inmarsat.com
Debbi Bonner
Managing Director
JLA Media
+31 (0)20 470 0619
debbi.bonner@j-l-a.com