Significant workboat breakthrough for Fleet Xpress after leading towing services provider KOTUG International commits to reliable high-speed connectivity off Western Australia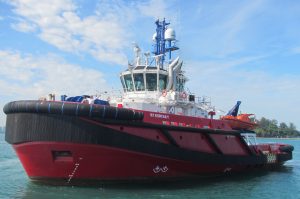 30 July 2019: Successful trials of Inmarsat Fleet Xpress off Western Australia have persuaded global tug operator KOTUG International to select the high-speed broadband solution for this area of the Asia Pacific region.
Following trials on board the 100-ton bollard pull tug Roebuck Bay, the towage service company has confirmed that the unique Fleet Xpress combination of Ka-band, continuously backed up by FleetBroadband, has significantly enhanced both the stability of communications and available uptime.
KOTUG will now phase in Fleet Xpress connectivity to cover towage services supporting Shell's Prelude floating LNG platform via a flexible plan agreement that includes 'Confirmed and Maximum Information Rates' for data transfer and crew connectivity. The package also incorporates a comprehensive onboard movie/sports/news content entertainment package.
KOTUG Corporate IT Manager Hans Boele examined requirements and assessed feedback on the trials over a six-month period. He says that the long-term company commitment to Western Australia demands a lasting connectivity solution that is "future proof and scalable".
"It's our mission to provide sustainable towage services that exceed clients' expectations and people are our greatest strength when it comes to achieving that. Equipping our vessels with well-functioning broadband supports our crew because it enables them to keep in contact with their relatives and our HQ and it provides uninterrupted access to the onboard entertainment system.
"We also needed terms that took account of flexibility on usage, because the demands placed on the service can vary as towage assistance, personnel transfer and standby duty needs change. In addition, KOTUG's vessels provide medical support and facilities." Fleet Xpress connectivity will also pave the way to deploy vessel management efficiencies that tap into the group's wider strategy for ICT, says Mr Boele.
"We are delighted to build on our relationship with KOTUG International as an Inmarsat client of many years standing," says Gert-Jan Panken, VP of Merchant, Inmarsat Maritime. "KOTUG already deploys Fleet Xpress off West Africa, and this new commitment confirms that vessels anywhere in the world and of all sizes can secure the operating efficiency and crew welfare gains available from Fleet Xpress with our global, reliable coverage."
KOTUG uses its own antennas and smart boxes on board, while its business critical decisions are supported by IT tools that manage the business from its headquarters in the Netherlands. Inmarsat's Mr Panken says that another compelling driver for transition to Fleet Xpress has been that it is achievable within its existing vessel management architecture.
"Our efforts to enable digitalisation in shipping engage with stakeholders at the level of their choosing, whether through Fleet Xpress, Fleet Secure cyber protection, Crew Xpress connectivity with a fully managed 'Fleet Hotspot', or the Application Programming Interface we enable through Fleet Data," he adds.
For further information:
Jonathan Sinnatt
Director of Corporate Communications
+44 (0)20 7728 1935
jonathan.sinnatt@inmarsat.com
Mark Warner
Marketing and PR Director
+44 (20) 7728 1654
mark.warner@inmarsat.com
Debbi Bonner
Managing Director, JLA Media
+31 (0)652 630122
debbi.bonner@j-l-a.com
About Inmarsat
Inmarsat is the world leader in global, mobile satellite communications. It owns and operates the world's best global portfolio of satellite networks, specifically designed for customer mobility, and holds a multi-layered, global spectrum portfolio, covering L-band, Ka-band and S-band, enabling unparalleled breadth and diversity in the solutions it provides.  Inmarsat's long established global distribution network includes not only the world's leading channel partners but also its own strong direct retail capabilities, enabling end to end customer service assurance.  The company has an unrivalled track record of operating the world's most reliable global mobile satellite networks, sustaining business and mission critical safety & operational applications for 40 years. It is also a major driving force behind technological innovation in mobile satellite communications, sustaining its leadership through a substantial investment and a powerful network of technology and manufacturing partners.   Inmarsat operates across a diversified portfolio of sectors with the financial resources to fund its business strategy and holds leading positions in the Maritime, Government and Aviation satcoms markets, operating consistently as a trusted, responsive and high quality partner to its customers across the globe.
For further information, visit Inmarsat.com or follow us on LinkedIn or on Twitter @InmarsatGlobal.
About KOTUG International
KOTUG is a leading towage operator offering its innovative services on a global scale. With a powerful fleet, KOTUG operates in terminal towage, harbour towage, offshore operations and salvage operations. Headquartered in The Netherlands, KOTUG is active in Europe, Russia, Asia, Australia, Africa, Canada and the Caribbean and continues to expand worldwide. Our knowledge is consolidated in KOTUG's Maritime Excellence Center which provides training and consultancy. KOTUG is family-owned and firmly committed to the highest industry standards of health, safety, environment, quality and security. www.kotug.com