14 November 2018 – Inauguration of  Tycho Brahe and Aurora marks successful completion of a high-profile conversion project with ABB's technology at its heart.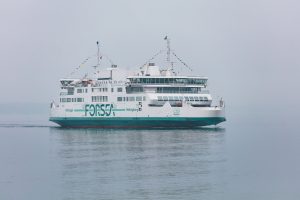 The largest emission-free ferries in the world have been officially welcomed into service after guests boarded Tycho Brahe in Helsingborg, Sweden and Helsingør, Denmark on November 9 for a special inauguration ceremony marking completion of an all-electric conversion.
"We are delighted that the entire system is in place to support the emissions-free operations we envisaged from the outset," said Johan Röstin, CEO, ForSea. "This is a truly groundbreaking project and the work we have done with ABB will offer invaluable lessons for those following our lead. In shipping, innovation takes time and patience, and we always kept sight of the environmental benefits at stake."
"This project signals a profound shift for the maritime industry, and shows a path towards zero-emission operations, aligned with International Maritime Organization's goals for decarbonization," said Marcus Högblom, Head of Passenger, Dry Cargo and Ice Segment, ABB Marine & Ports. "We congratulate ForSea on the inauguration of these vessels, and we are proud to have worked closely with them to deliver this pioneering solution."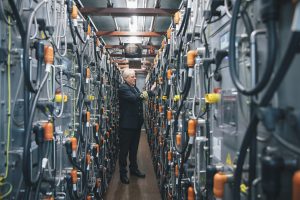 Tycho Brahe and Aurora have been converted from conventional diesel engine operations to battery power at Öresund Dry Docks, as part of ForSea's strategy to reduce the environmental footprint along the 4km route between Sweden and Denmark. The vessels operate on a high intensity ferry route that transfers over 7.4 million passengers and 1.9 million vehicles between urban port terminals in Denmark and Sweden.
The conversion of these over 100-meter ferries, both built in 1991, required installation of a 4160 kWh battery on each vessel, as well as battery racks, energy storage control systems and ABB's award-winning Onboard DC Grid™ power distribution technology.
Additionally, ABB supplied automated shore-side charging stations using an industrial robot to optimize the connection time and maximize the charging period, leveraging 3D laser scanning and wireless communication between ship and shore.
"This is a landmark project, and we are convinced it will come to be seen as a critical step in shipping's environmental revolution, as well as a milestone in rolling out ABB's 'Electric, Digital, Connected' strategy for shipping," said Marcus Högblom, ABB Marine & Ports.
INEA, the European Union's executive agency for innovation and network, has supported the project.
ABB (ABBN: SIX Swiss Ex) is a pioneering technology leader in power grids, electrification products, industrial automation and robotics and motion, serving customers in utilities, industry and transport & infrastructure globally. Continuing a history of innovation spanning more than 130 years, ABB today is writing the future of industrial digitalization with two clear value propositions: bringing electricity from any power plant to any plug and automating industries from natural resources to finished products. As title partner in ABB Formula E, the fully electric international FIA motorsport class, ABB is pushing the boundaries of e-mobility to contribute to a sustainable future. ABB operates in more than 100 countries with about 147,000 employees. www.abb.com
The sole responsibility of this publication lies with the author. The European Union is not responsible for any use that may be made of the information contained therein.
For more information please contact:
Media Relations
Margarita Sjursen
Phone: +47 45132617
Email: margarita.sjursen@no.abb.com
JLA Media Ltd
Paul Hubbard
Phone: +44 208 405 6343
Email: paul.hubbard@j-l-a.com
ABB AS
Bergerveien 12
1396 Billingstad
Norway