31 January 2018 – Frank Coles, Chief Executive Officer of Transas, has won the prestigious inaugural SMART4SEA Leadership Award, recognising his outstanding contribution to transformative thinking in the maritime industry.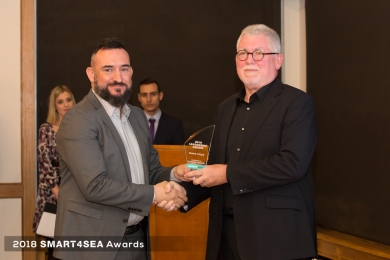 Frank Coles accepting the SMART4SEA Leadership Award
The 2018 SMART4SEA awards, held on January the 30th on the eve of the SMART4SEA Conference in Athens, focus exclusively on the initiatives and individuals who foster 'Smart Excellence & Sustainable Shipping'. The first ever Leadership Award is a special celebration of the individual whose entire career is considered as demonstrating leadership towards smarter shipping.
In a 40-year career starting as a ship's cadet, Coles has championed the beneficial change in ship management available through new communication technologies, but he continues to highlight that shipping's resistance to innovation is based on attitudes and culture, not technology.
"Essentially leadership in innovation and change is a continuous campaign against the archaic cultural attitudes fighting modernization and the benefits of efficiency brought about by technology," said Coles, accepting the Award. "In the last 20 years of pushing for safer, more efficient ships, the biggest challenge has not been technology; it's been pushing against the bastions of the old club and networks."
Coles' career highlights include: Rydex becoming the first company to develop a ship-to-shore email software system over satellite; developing the first version of synchronized software – Infobridge – for Sperry Marine; transforming Globe Wireless into a market leader for crew voice services via high frequency and satellite communications; and boosting turnover at Inmarsat Maritime from $450 million to $680 million in under two years as President.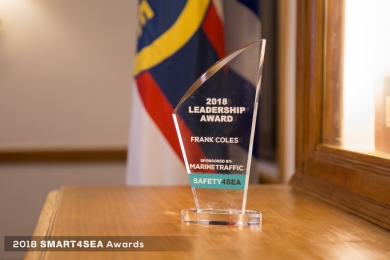 SMART4SEA Leadership Award
He identified his 'light bulb moment' as occurring in the mid-1990s when, as CEO of Pacific Basin, he wrote a business plan envisaging ships connected into land-based management decisions, using data and analysis brought ashore. "Yet here we are 20 years on, and it is just beginning," he observed.
Today, Coles is maintaining the momentum for change through THESIS (Transas Harmonised Eco System of Integrated Solutions), the ground-breaking ship-shore communications platform for sharing of administration and decision-making between sea- and land-based staff. By automating much of the onerous paperwork and changing the roles of captains, crew and land-based staff, THESIS is creating new efficiencies, improving safety at sea and reducing vessel operating costs.
In typically forthright style, a presentation during a panel session opening the SMART4SEA Conference on January 31st saw the Transas CEO describe the maritime constituency as 'Citizens Against Virtually Everything' (CAVE) when it came to connectivity advances. He castigated shipping for an intransigence he attributed to its 'ASS' (Archaic Spaghetti Structure) and summed up its operational dynamism in the acronym FOSSIL (Fleet Operations Services Stuck in Limbo).
However, Coles believes more change will be achieved in the next 10 years than has been possible in the preceding 40, as "the cultural roadblocks and attitude dinosaurs" are removed.
"We need well-trained maritime professionals working in a modern environment. Fortunately, as time has passed, the combination of a new generation and technology will remove those who refuse to see, cannot see or don't care enough to see. Change is coming from within but also from outside. We must keep talking about it, so we can see the sea," said Coles.
The Transas CEO also emphasised that smarter shipping is safer. "We have for so long spoken in platitudes about the seafarer and ship safety, while all the time seeking ways around the rules. You cannot achieve an efficient or safe ship by loading technology on top of paper and old systems. You cannot have a cyber secure ship if you simply add technology to old fashioned processes. The regulatory process that desires to please everyone ends up with a camel as a race horse."
About
Transas
Transas' vision is to lead the way in creating an ecosystem of harmonised integrated solutions in safety, navigation and ship operations. In creating these solutions Transas unites global maritime stakeholders in the future of e-Navigation and operations.
True to its vision, Transas has introduced THESIS, the Transas Harmonised Eco System of Integrated Solutions. THESIS is a flexible data resource where Ship, Fleet Operations, Academy (simulation & training) and Ship Traffic Control can all be connected to the ecosystem, effectively a community working together on a cloud based shared data platform to enable smarter operations, safety and navigation.
United into a single environment, navigation, simulation, vessel traffic, and fleet management systems become a decision support tool using the data provided by Transas software solutions.
Transas operates more than 20 own regional offices and has a global network of partners around the world.
For more information, please visit our website at www.transas.com and check out our YouTube channel at https://www.youtube.com/TransasGlobal.