16 September 2019 – VIKING's entire LifeCraft™ system has now obtained flag state approval as a novel life-saving appliance to be installed on passenger ships for the utmost safety in evacuation emergencies.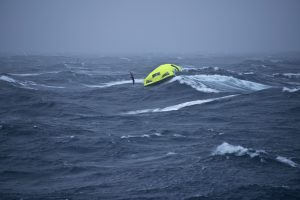 VIKING Life-Saving Equipment A/S, the leading global safety products manufacturer and service provider, has announced the first flag state approval of its entire VIKING LifeCraft™ system, meaning the world-first inflatable and electrically powered evacuation solution is now cleared for installation on ships around the world.
The stamp of approval was issued by the Danish Maritime Authority (DMA) on August 23, 2019. This follows earlier approval of key components of the system, such as the Survival Craft™, as part of the innovative system's development journey. Full commercial availability of the triple award-winning VIKING LifeCraft™ is set to follow within a few months of the breakthrough approval.
The VIKING solution has been approved as a novel life-saving appliance system – a well understood and accepted category in the maritime industry. The novel life-saving appliance designation reflects the dual nature of the VIKING LifeCraft™ system, which breaks the mold by making it possible to replace current lifeboat and liferaft evacuation options with a superior, hybrid solution.
"The LifeCraft™ system goes far beyond the capabilities of existing evacuation solutions and I am very proud of my team and our achievements," says VIKING CEO, Henrik Uhd Christensen.
Well-tested winner
While the VIKING LifeCraft™ system is a completely new and innovative product, it is based on well-proven technologies and extensive series of tests. And, while most maritime safety products and systems that achieved novel life-saving appliance approvals to date have been adaptations or variations of conventional life-saving appliances, this is the first time a complete – and completely innovative – evacuation solution has fallen under this category.
"Everyone in the industry knows that novel life-saving equipment requires strict alternative design studies and documentation that can show their superiority to existing life-saving appliances," says Niels Frænde, Vice President of Sales – Cruise & LifeCraft™, at VIKING. "We've certainly gone the distance with the new system, setting new standards for our design and testing activities throughout the process."
Innovative design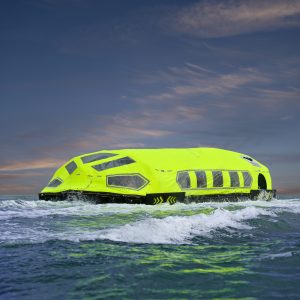 The LifeCraft™ system has a capacity to save 812 people and consists of two main elements: Inflatable VIKING LifeCraft™ survival crafts, and a fully self-contained stowage and launching appliance that can either be placed on deck or built into the ship's side.
Every system is equipped with four survival crafts holding 203 persons each. With four independent electric engines at its corners, each survival craft is highly maneuverable and its ability to quickly turn 360 degrees is unmatched by conventional motor-propelled survival crafts. This design feature is just one of many innovations that showcases how the LifeCraft™ system
exceeds the capabilities of existing evacuation solutions.
Worldwide roll-out
"We expected the final approval process to go every bit as smoothly as the previous novel life-saving approval, and it did," says VIKING CEO, Henrik Uhd Christensen. "And this achievement comes at a perfect time, considering the amount of interest cruise shipowners are showing in getting this new evacuation solution installed and operational. Now they can take their plans for incorporating VIKING LifeCraft™ into both newbuilds and existing ships to the next level."
For more information please contact:
Niels Frænde
VP of Sales – Cruise & LifeCraft™
Tel: (+45) 7611 8450
Email: nfr@VIKING-life.com
Lone Aaboe
Corporate Communications Manager
Tel: (+45) 7611 8217,
Email: laj@VIKING-life.com
About VIKING:
VIKING Life-Saving Equipment is a global market leader in maritime and offshore safety. Headquartered in Denmark, the corporation manufactures, supplies and services everything from chute and slide-based evacuation systems to liferafts, lifejackets, immersion suits, firefighting equipment, aviation safety gear, lifeboats, hooks, davits and more.
VIKING brings its customers all the elements needed to simplify safety, including the world's broadest range of safety products and a highly efficient, worldwide servicing network. And it stands out in the ability to offer complete safety compliance solutions – all certified in accordance with the latest IMO, SOLAS, EU and USCG requirements. Known as VIKING Shipowner and Offshore Safety Agreements, these uniquely customizable solutions incorporate safety products, global servicing, exchange, single-source management, and financing in a variety of fixed price structures.
In 2018, VIKING acquired Norsafe, the Norwegian boatbuilder whose lifeboats are used throughout the world, adding further strength to an unmatched product and service offering in the global maritime safety industry. Founded in 1960, the privately held corporation manufactures in Denmark, Norway, Bulgaria, Greece, China and Thailand, and provides safety solutions in all significant markets and locations.