19 April, 2017 – After an intensive 10-month review and upgrade of operating processes across the company, Gibdock has made the transition from ISO 9001:2008 to the new ISO 9001:2015 quality management standard, and from ISO 14001:2008 to the ISO 14001:2015 environmental standard. The Gibraltar yard has completed both transitions long in advance of the mandatory date of September 2018 set by ISO.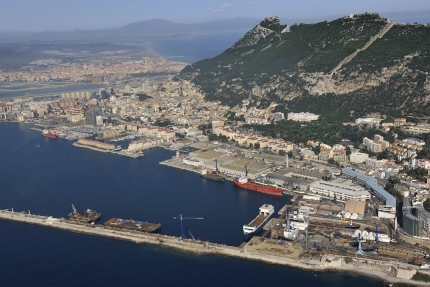 Gibdock Aerial View
A Lloyds Register (LR) assessment team visited Gibdock in early April to carry out the external audit and verify compliance, shortly after receiving confirmation that the yard had achieved both the ISO 9001:2015 and ISO 14001:2015 standards and that its internal processes are fully integrated with the new guidelines.
Francis Mauro, QHSE manager at Gibdock says: "As soon as the new standards were issued, we started work to ensure that we were compliant as early as possible. We were delighted to receive certification from LR and to hear that of all the businesses they have audited to date, Gibdock was considered one of the highest performing in quality management and environmental protection."
The new standards bring significant changes, Mr Mauro says. "In ISO 9001:2015 there is much greater emphasis on corporate responsibility in internal processes, rather than delegation, while on the environmental side the focus is to ensure that procedures and documentation span product lifecycle. That makes us responsible for ensuring traceability from the moment a product is sourced until its disposal."
UK-based environmental, health and safety and sustainability consultant, Mabbett, assisted Gibdock in making the transition to the new regime. A seven-strong in-house team of auditors was also set up, three of whom were directors, to verify that changes were being made in accordance with the revised guidelines.
Mr Mauro says: "We looked at all of the processes we carry out at Gibdock and assessed our suppliers and subcontractors comprehensively. Wherever we could, we have taken the opportunity to strengthen our quality control systems and introduced environmental improvements, ranging from LED lighting to solar panels, and enhanced waste segregation.
Gibdock believes that adhering to the new standards will have benefits for customers. "We now have better control and traceability within our procedures, which are documented throughout the chain of command," he adds. "Many of our customers, especially those in the offshore sector, are especially demanding on documentation and traceability, but now we are ahead of the game and ready for any pre-project audits customers may require."
Adopting the new standards early sends an important message to the market, Mr Mauro suggests. Gibdock is now turning its attention to adopting the new, but as yet unpublished ISO 45001 Health and Safety Management standard, to transition from the existing OHSAS 18001 guidelines. "We will be ready to go as soon as the new standards are issued," says Mr Mauro. "We expect this will be later in the year."
For further information,
please contact:
Richard Beards
Managing Director, Gibdock
Tel: +350 20059400
E-mail: rb@gibdock.com
Hugh O'Mahony
Director PR, JLA Media Ltd
Tel: +44 208 405 6343
E-mail: hugh.omahony@j-l-a.com