9 February, 2017 – GreenBridge Multimodal has responded to growing volumes by introducing a 4th roundtrip train to connect the Duisburg rail hub and the port of Trieste.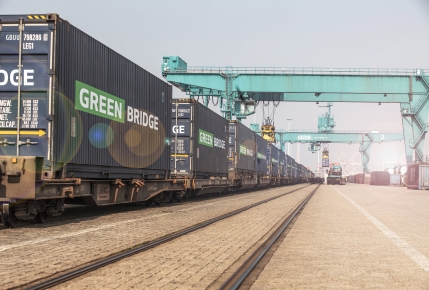 GreenBridge, the multimodal brand redefining freight services between Turkey and Europe, has introduced a fourth regular train connecting the Duisburg rail hub and the port of Trieste.
GreenBridge is a joint initiative of European multimodal solutions provider Samskip Multimodal B.V. and Intercombi (ICL) Transport, a subsidiary of the leading logistics company Turkey Netlog Logistics Group. The combined transport service reaches destinations across Europe via the Samskip Rail Terminal, Duisburg, with Trieste connected to Turkey via 6x weekly sailings offered by UN RO-RO.
Adding a fourth regular train to the Duisburg-Trieste land-bridge reflects new customer commitments to the multimodal solution, says Marcel Delmee, GreenBridge Manager Multimodal Services, Turkey Trade.
"The frequency increase vindicates the principles behind GreenBridge, which combines the benefits of Samskip's European multimodal network and Intercombi's in-depth industry expertise in the Turkish market," he says. "GreenBridge offers major advantages over conventional road transport that include faster transit, elimination of border delays and traffic jams/road taxation, better security and lower fuel costs.
"Introducing the fourth roundtrip train meets expectations set out at the launch of GreenBridge in 2014 and will enhance service for existing and new customers. Our ambition is to add a fifth train in the future."
Each GreenBridge train connecting Duisburg and Trieste has capacity for 34 unit loads, with the partners offering a range of unitised equipment, including containers of up to 45ft length and 13.6m length mega trailers.
The fourth train has been added following a revision of the traction agreement between the service partners and Rail Cargo Austria. It will depart southbound from Duisburg on Monday, Wednesday, Thursday and Saturday, with the additional northbound journeys departing from Trieste on Monday, Wednesday, Friday and Saturday.
Note to editors:
Greenbridge is a joint initiative created by Samskip Multimodal B.V. and Intercombi (ICL) Transport and Logistics, a subsidiary of Turkey Netlog Logistics Group. Samskip and Intercombi Transport are limited partners in Greenbridge.
Samskip offers pan-European, environmentally responsible combined transport services via shortsea, road, rail and inland waterway routes. We are committed to cost-effectiveness, operational excellence and best practice in sustainable transport.
High frequency services connect destinations across Europe, the Baltic States, Russia and Central Asia, both door-to-door (including collection) and quay-to-quay, transported using a wide range of owned vessels, containers, trucks and trailers. To match equipment to cargoes shipped, options include a full range of ISO containers and reefers, including 33-pallet capacity 45ft units.
In all cases shippers can make real choices based on frequency of service, transit times, freight rates and sustainability.
Intercombi Transport (ICL) is Turkey's leading international transport company. ICL owns and operates a fleet of 1,200 trucks dedicated to international transit. ICL is a pioneer in Intermodal and multimodal operations connecting Turkey and its trading partners.
ICL is a wholly owned subsidiary of NETLOG Logistics Group of Turkey. Netlog has been acknowledged as Turkey's largest logistics company for the past 5 years running by Fortune 500 Turkey. The group owns 14 market leading brands, operates 68 warehouses offering a combined 1,200,000m2 of storage capacity, manages a daily logistics traffic of 5,000 trucks and employs over 8,000 full time staff.