25 March 2021 – GTMaritime is proud to announce that it has transitioned its business to an Employee Owned Trust (EOT), in a deal securing the future of a true shipping technology innovator.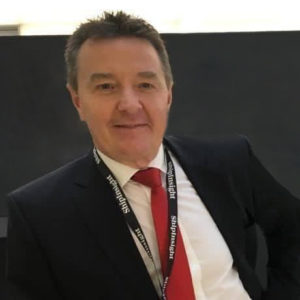 The move to an EOT is an exciting development which is set to incentivise employees under the guidance of the management team responsible for establishing GTMaritime as a leading provider of secure data communications software to the shipping industry. The structure of the trust enables existing and future employees to become direct beneficiaries of the company's continuing success.
Robert Kenworthy and Chris Morgan, the owners of GTMaritime, sold their majority stake in the company to an EOT that will hold the shares for the benefit of GTMaritime employees. Both remain on the Board of Directors as CEO and Chairman and will continue to be actively involved in the company, with no changes to the existing management structure.
Robert Kenworthy, CEO at GTMaritime, said: "I am delighted to announce that we have successfully completed the transition to an Employee Owned Trust. Chris and I remain fully committed to GTMaritime and we look forward to working with the team and helping to steer the company for many years to come. From the start we have tried to instil a company culture that ensures people are happy in their work environment and I strongly believe that if we look after our team, then they will look after our customers.
"The EOT aligns exactly with the inclusive and innovative culture that is the foundation on which we have built the business. It is the team providing reliable, round-the-clock support for customers who have worked so hard to achieve the GTMaritime success story; going forward, it will be the team who benefit as they take the business from strength to strength."
Managing Director at GTMaritime, Chris Judge, said: "This is a really exciting time for everyone at GTMaritime. Our people are our greatest asset and without them GTMaritime would not be where it is today. As a company we have always worked as one and we strongly believe that this will ensure our team remain at the heart of our business.
"In today's business environment we wanted to provide stability and ensure the company's continued success; we wanted to have an operating model that truly reflects the respect we have for our colleagues and the contribution they make to GTMaritime's collaborative culture of innovation. This is a wonderful opportunity for everyone and we look forward to continuing to work together and build for the future."
About GTMaritime:
GTMaritime
Wherever you are, we are.
Over 20 years maritime communications experience
7,500+ vessels & 500+ businesses worldwide trust GTMaritime with their communication solutions
Proven 100% service record with no unscheduled downtime
100% malware blocking with over 86,000 malware attacks stopped in the last 12 months
Over 5.3m spam messages and 1.7m known viruses blocked in the last 12 months
24-7-365 technical support from ITIL trained engineers
Offices in the UK, USA and Singapore along with a global partner network
Continuous software development ensures rapid deployment of new functionality, as well providing software updates for vulnerabilities
Since 1998 GTMaritime has been providing a range of technology solutions and services to the maritime industry that serve to enable effective communications over satellite.
We specialise in providing solutions and services that help ensure vessel compliance and business operability 365 days a year, as well as keeping crew in touch with friends and family whilst at sea. All of this is backed up by a market leading infrastructure and unrivalled 24-hour customer support, every day of the year.
Our development team deliver continuous development and enhancement features to ensure our products stay ahead of the ever-growing cyber threats, with silent system enhancements deployed on a weekly basis.
We provide these services from three offices – our head office in the UK and local offices in the USA and Singapore – and increasingly through an established and growing network of resellers and partners around the world.
For further information:
Alexandra Collins​
Marketing Manager, GTMaritime
+44 (0) 1925 818918
Alexandra.Collins@GTMaritime.com
www.GTMaritime.com
Amanda Buchan
Account Manager, JLA Media
+44 (0) 7487 802818
amanda.buchan@j-l-a.com
www.j-l-a.com